Blowjobs with a sex doll
A really good and extensive blowjob is something a lot of people love and enjoy. A high-quality
sex doll
is in no way inferior to a real woman in her oral skills and she has a lot of perseverance. You can find out how to get a perfect blowjob from your sex doll and what great alternatives there are in this blog post.
Can sex dolls give a blowjob?
Your sex doll usually has all the pleasure holes a real woman has. In other words, you can have fun with your sweetheart vaginally, anally and of course also orally. Her versatility ensures that you'll never get bored with her.
All
TPE dolls
have a realistically designed mouth which you can easily open. This opening is made of TPE just like the rest of the body and is velvety soft to offer you a very realistic sex experience. The oral opening is usually between 10 to 12 cm deep and nice and narrow so that you can really enjoy the BJ. You can find the exact oral depth under "Size" for each sex doll.
You may have noticed that some pictures of the sex dolls show their teeth and even if they look very real, like the rest of the doll, the pretty pearly whites are made of TPE and have been painted accordingly by hand. So you don't have to worry about minor accidents during oral sex with your hot sex doll.
However, you should be careful if you choose a lustful vampire sex doll. As befits a woman of the night, these sinful ladies have fangs. These are also made of TPE, though they're a little more pointed as is typical for vampires, but they're absolutely not dangerous.
So there's absolutely nothing standing in the way of oral pleasure with your loved one.
Attention: Most premium luxury sex dolls made of silicone don't have an oral opening; you can find out whether your chosen one can satisfy you orally in the relevant description.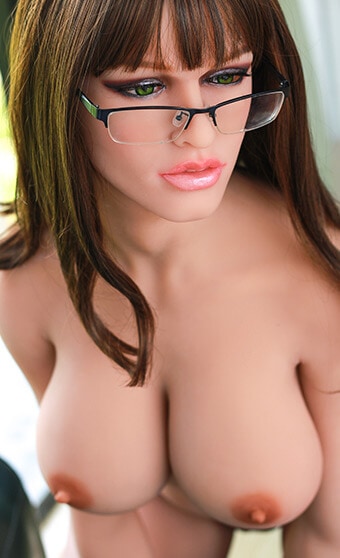 Be careful with the BJ!
Much more dangerous than the TPE fangs of a vampiric real doll is the damage to the mouth which careless oral intercourse can cause. Basically, TPE is a really very robust plastic which can easily withstand the wildest nights of love thanks to its high durability. However, you should still exercise a certain degree of caution despite this.
The corners of her mouth in particular tend to tear if you make too rough movements with your Real Doll. However, you can fix these cracks quickly, easily and, above all, inexpensively with special plastic glue.
Another major problem with real doll blowjobs has nothing to do with the mouth. Many people forget to protect the knees when they position their real dolls. So if she isn't lying in your bed and you're being pampered orally by her there, you should definitely choose a light pad for her knees.
A simple, light-colored cotton blanket or a microfiber cloth is sufficient. These pads ensure that her knees don't become discolored or damaged. If you pay attention to these simple things, you'll have a lot of fun getting blown by your Real Doll.
Tips: Realistic oral sex with a sex doll
The choice of material already ensures that you'll have super-realistic fun with your
sex doll
, but in order to be able to make the experience even more realistic, you should definitely observe the following tips:
Use lubricant: The oral love opening of your sex doll is nice and tight and therefore promises extraordinary pleasure. Logically, however, your sex doll can't produce saliva. So that the feeling is even more realistic and you can find a comfortable pace, always use lubricant.
Warm up the pleasure opening: Warming her throat also contributes significantly to a realistic feeling. You should definitely use the special USB heating rod for this, but you can also cover her head with an electric blanket. If you choose the second option, make sure that her make-up doesn't smudge.
Sexy tongue setting: With every order process you can choose the sexy tongue additionally to every sex doll. This is made of TPE and is part of our "make her real" series. With this you'll give the blowjob with your Sex Doll that certain extra kick and make the oral pleasure even more realistic.
If you want even more tips for a super realistic love game with your Sex Doll, you should definitely take a look at this blog post:
To the blog post
The correct cleaning of your love doll
Correct cleaning and care of a love doll is essential for long-term pleasure with your TPE doll or silicone doll. We always recommend the use of a condom for great time savings when cleaning and generally gentle use. If this isn't an option for you, the cleaning of all pleasure openings should be particularly thorough.
You can use special cleaning kits which some manufacturers ship with every order, or you can use a mixture of warm water and washing-up liquid or baby shampoo. Carefully wash the mouth and throat of your love doll with this mix and dry off any remaining water.
Residual water can lead to unsightly stains or even mold. If you want to know exactly how you can avoid this and what subsequent care your Love Doll still needs, then take a look at this blog post on the subject of cleaning and care: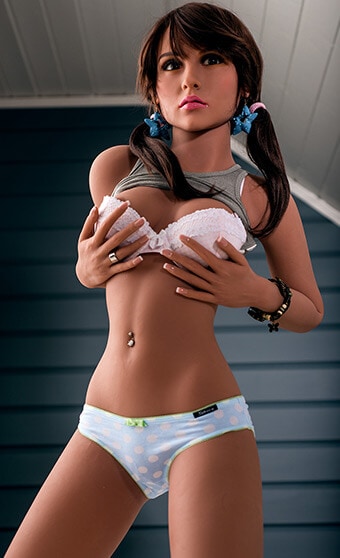 Handy alternative - blowjob masturbators
Of course, a high-quality love doll made of TPE or silicone is the most luxurious and realistic sex toy there is. But of course this unique quality also has its price, which some cannot or will not pay. You may also simply lack the space to properly store a TPE or
silicone doll
in order to maintain its longevity.
This is where our sexy masturbators come into play, which give you all the advantages of TPE, but are much cheaper and easier to handle. With us you will find a wide variety of masturbators and torsos which have one or more
love openings
and definitely suit your taste.
The category of blowjob masturbators includes all sinful toys which are explicitly designed for oral pleasure. They are shaped like a beautiful woman's mouth and differ in size and design. Here, too, you can easily warm the TPE gently and then enjoy a super-realistic blowjob.
To clean your masturbator, you only have to hold your favorite toy under warm water and wash out the corresponding pleasure opening with mild soap. Then let it dry well and store it discreetly and easily accessible for the next use.
Have the blowjob masturbators piqued your interest? Then take a look around here and find your next pleasure maker: