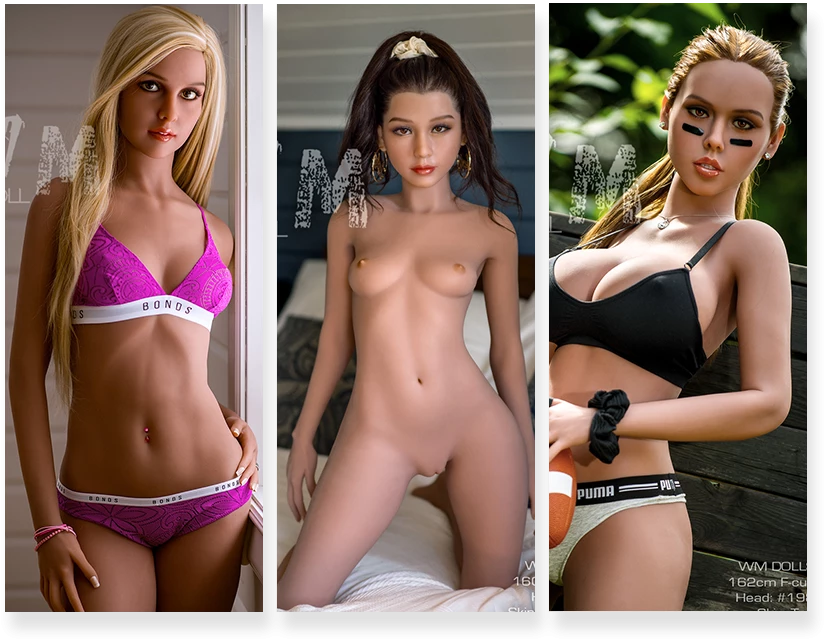 WM Dolls
The goal of the WM Doll brand is to fulfill every fantasy of its customers. So you are guaranteed to buy a sex doll from this brand that will match 100% your personal taste. They manage to do this with their wide selection of gorgeous love dolls. WM Dolls offers sex dolls with different figure types, which vary in size within the range of 140cm to 174cm.
It's up to you: do you prefer to be enchanted by a super trained Real Doll, to nestle your face against big silicone style tits in the evening in bed or do you prefer to enjoy small natural breasts? WM Doll offers you everything you can dream of.

Lifelike details conjured up by professionals in the industry

Incredible selection of different body types - ideal to live out any fantasy

TPE and silicone dolls that shine with extraordinary quality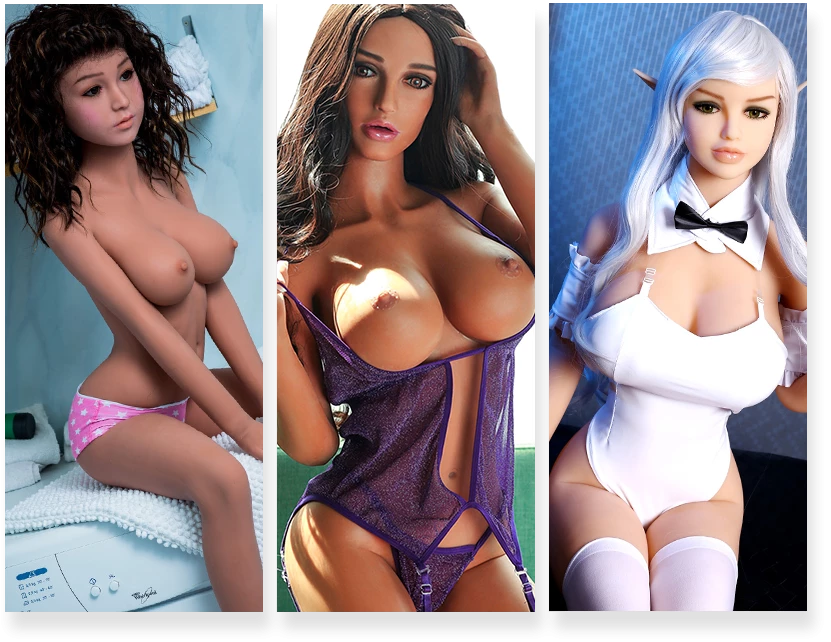 Cosdoll
The Cosdoll brand embodies hot youthfulness with slim bodies and natural as well as fake breasts in all its sex doll models. Whether you're into the American Sweet Heart love dolls, Asian beauties that blow your mind, or a hot Latinas that really turn you on, Cosdoll is sure to have the perfect sex doll for you.
Cosdoll bases their TPE sex doll designs on all ethnicities to offer you natural and authentic sex dolls between 148 cm to 165 cm tall. This makes for real eye-catchers and love dolls with a lot of charm.

Femininity and beautiful curves are one of the trademarks. You will find your preferred figure type.

The great variety of sex dolls guarantees everyone will find their dream woman and have her in their arms soon.

Skin-like TPE ensures easy handling & care, as well as a uniquely realistic sex experience with your Cosdoll.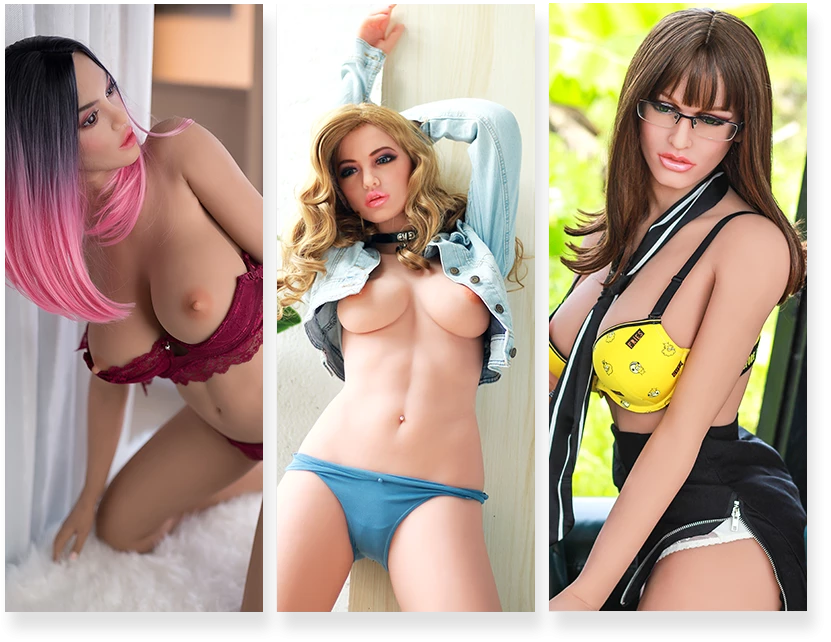 6ye Doll
6YE Doll is one of the manufacturers that offers an incredible variety of sex dolls. All your wishes will come true, no matter if you like light skinny Eastern European girls with small breasts or big curvy dark-skinned beauties. You can choose from countless love dolls in sizes ranging from 138 cm to 170 cm. Despite this fantastic choice, the 6YE Dolls are characterized by their attention to detail and high realism.
This Real Doll manufacturer focuses completely on naturalness in its TPE sex doll designs and thus gives their customers what many other manufacturers fail at. If you are a fan of realism and diversity, you will find it with 6YE Doll.

Different types for all tastes! You are guaranteed to find your dream sex doll.

True-to-nature figures are the be-all and end-all in the production of realistic looking love dolls.

TPE ensures an absolutely real sex experience and makes the beauties' skin incredibly soft.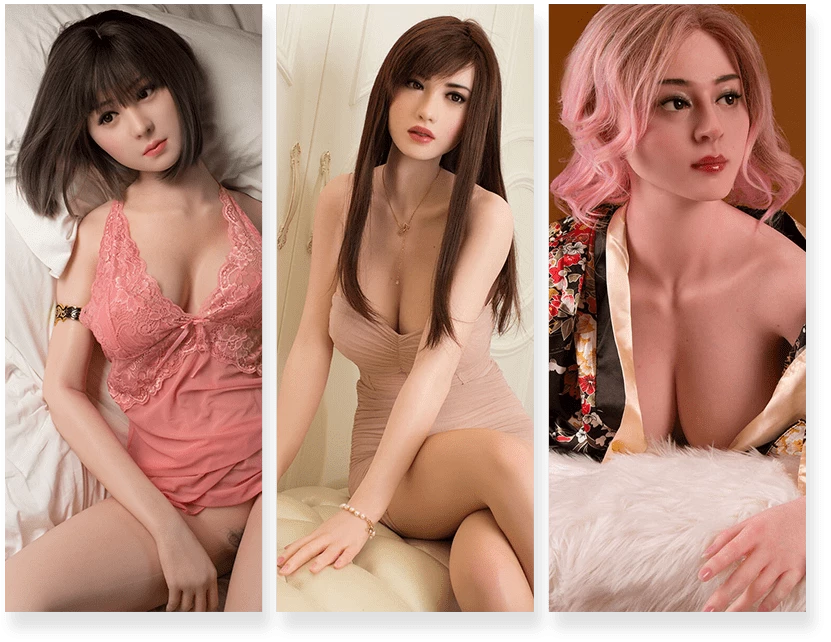 GYNOID (RZR Doll)
These premium luxury dolls are guaranteed to be a dream come true. Because the silicone dolls from GYNOID, also known as RZR Doll, are even better than reality! They have been lovingly handcrafted through and through with the smallest details designed and produced. No one who longs for a premium luxury sex doll will be able to avoid the Real Doll by GYNOID.
A special strength of the luxury manufacturer is to turn the visions of the Love Doll fans into reality. You will notice how quickly you forget that the premium luxury sex dolls, which are between 148 cm to 172 cm tall, are actually only made of innovative silicone.

Extremely realistic sex dolls where you cannot believe that they are "only" made of silicone.

Incredible details that are lovingly painted with the highest precision onto the Dolls high-quality bodies.

The perfect skin-like feel of the silicone is reflected in the realistic appearance and unique quality.

Zelex Doll
Zelex Doll stands out for its range of sex dolls with natural body types. Moreover, the bodies as well as faces are covered with delicate details. The special manufacturing process as well as the quality of the material are responsible for this.
Zelex sex dolls are made of either silicone or TPE and are only available in 170 cm size so far. The brand offers you maximum customization options by changing skin, eye, labia and nipple color as well as nipple size. Moreover, pubic hair can be added optionally. One can either purchase a wig or choose implanted hair, synthetic or real. Zelex Doll offers additional details, such as freckles, bikini stripes and even hymen. With the purchase of a sex doll from Zelex you get a free head with free wig.

Highest quality TPE & silicone also provide an enormously realistic look.

Natural body types make everyone forget that it is a Doll.

All sorts of details adorn the bodies of the dolls thanks to the replica of real people.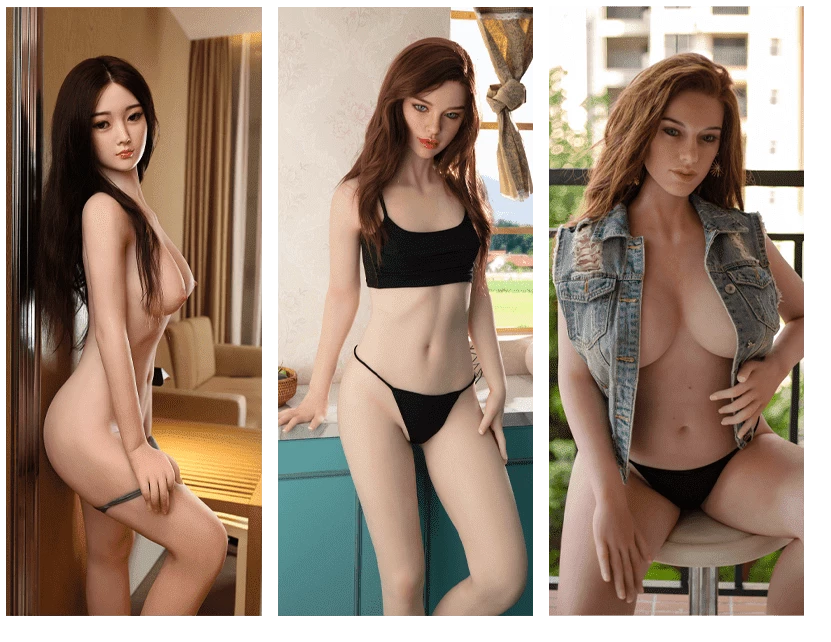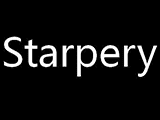 Starpery
These lifelike premium luxury sex dolls are definitely a dream come true. The premium luxury sex dolls of the brand manufacturer Starpery enchant not only with their ultra-realistic look, but also allow a skin-tight feeling. Even the smallest details like freckles, fine veins or even hot bikini stripes adorn the body of these erotic beauties. If you long for a lifelike premium luxury sex doll, you won't be able to avoid these high-quality silicone dolls.
What makes these premium luxury dolls stand out is, above all, their true-to-detail manufacturing. The Real Dolls, which are between 151 cm and 174 cm tall, can be individually configured upon request. So you can meet your own dream woman and enjoy the innovative silicone of the beauties to the fullest.

Life-like silicone doll with ultra-realistic look and feel makes you forget that it's "just" a doll.
Many details made by hand, making the high quality silicone body even more beautiful.

Premium silicone an high quality TPE with unique details and fine finish.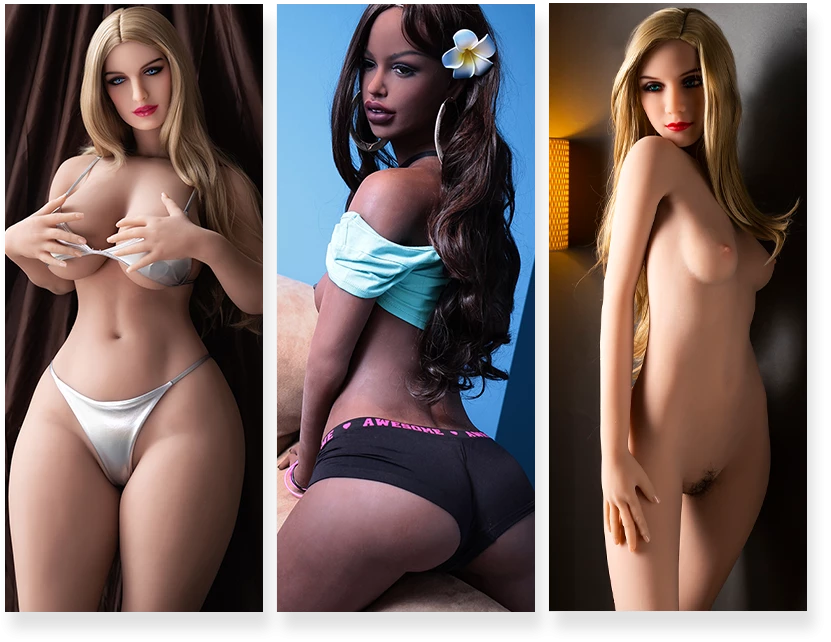 HR Doll
HR Doll is one of the few brands among sex dolls that offers such a wide variety. No matter what your dream type is - at HR Doll you will find the one. Are you more into small breasts and a trained body or do you prefer beautiful feminine curves? At HR Doll you will find everything you dream of.
You also have many individual design options when choosing the color of nipples and labia. Do you want your chosen one to have an integrated tongue for an even more realistic experience? With the TPE Dolls everything is possible.

Unique faces that are characterized by a high recognition value.

Beautiful cleavage that will particularly delight lovers of shapely breasts.

Quality TPE that feels particularly realistic and can store heat well.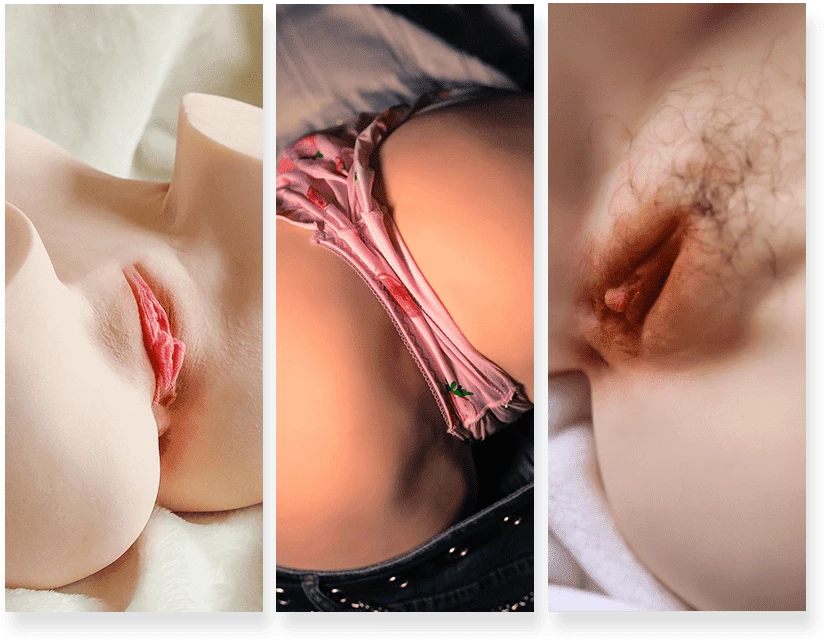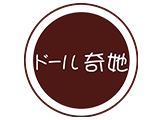 Qita Doll
Qita Doll stands out among the manufacturers of sex toys for men. No one else makes such realistic sex toys and combines unique design with perfect quality and a deceptively real skin feeling. For this purpose, real models are used for the various toys to immortalize the genitals in high-quality TPE Sex Torsos!
This impression technique gives the Qita Dolls an ultra-realistic look and feel. Everything is taken care of in the replicas down to the smallest detail, and the individual models couldn't be more different. So there is something for every taste when buying Qita Doll!

Incredibly real details all over the body with wrinkles and pores.

Real prints with 1:1 proportions of real women in intimate area.

High quality TPE which looks and feels deceptively real.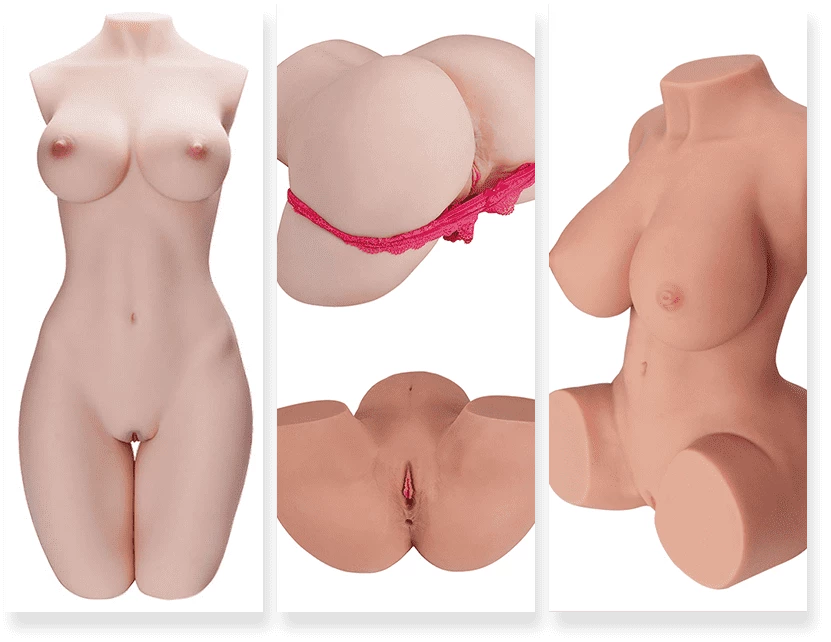 Tantaly®
Tantaly® is probably the brand par excellence when it comes to sex doll torsos but also sex torsos at dolloro®. In order to make the Tantaly® torsos as realistic as possible, real women stand for this model and can be immortalized with the help of the material.
Both the Tantaly® Sex Torsos and the Tantaly® Sex Doll Torsos have the vaginal and anal entrance. These have a ribbed and studded texture, giving the penis a realistic thrusting experience.

Deceptively real detail both from the outside and inside.

Real women's prints that make you forget that it's just a sex toy.

High quality TPE which not only looks real but also feels like it.