Sex Doll Roxi (23 years) - HR Dolls
Sexy real doll Roxi works at a cinema. She's a complete film nerd and knows every little detail about films. While films are showing, she often does it with patrons who arrive late. Every now and then, she even rents out the cinema privately so she can organize perverted sex parties or group sex.Sex doll Roxi is up for anything during sex, as long as it doesn't get boring. She loves kinky sex and likes to be showered in cum. This Love Doll is a real nasty s**t who even makes some men blush. This love doll is just over 5 ft 4 in tall and she's especially popular with men who like exotic beauties with small A-cup titties. Roxi has long brown hair, brown eyes and dark skin which makes her hairless, pink p***y hole even more appealing. The horny sex doll also has a firm ass and an irresistible blowjob mouth which she knows exactly how to use.
Sex Doll Miranda (36 years) - HR Dolls
Sex Doll Miranda is the boss of a prestigious bank. When she feels like it, she nibbles one of her employees on the desk during the lunch break or she gets her p***y licked during the conference call. Both at the bank and during sex, she likes to set the tone. However, sometimes she enjoys falling into the submissive role and submitting to a man. This ambitious sex doll knows exactly what she wants and that is exciting sex and fast cars. TPE Doll Miranda is 1.64 m tall and has flawless, velvety skin. Her long, blonde hair makes her blue eyes look even more radiant. The sexy love doll also has really horny giant tits that will blow any man's mind. Miranda is into horny titty f***s and loves it when you suck on her stiff nipples. The curvy Real Doll has a big ass that she loves to have trimmed. She also loves it when you lick and finger her hairless pussy.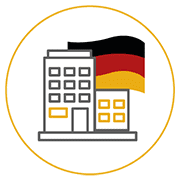 German retailer
dolloro® is a certified German retailer for HR Dolls. This means that when you buy HR Dolls you can be sure that all sex dolls meet the required quality standards.
Highest discretion
At dolloro® you can buy the best HR Dolls without hesitation, because we always maintain a very discreet customer approach. Due to our inconspicuous packaging and neutral e-mail addresses, no one will know about your order!
Professional Customer Service
Everything you want to know about buying HR Dolls will be answered by our professional team of experts. Our German customer support will handle your concerns and questions about your order in detail and discreetly.