Wigs for your Real Doll
Wigs are a pretty important topic when it comes to the appearance of a
sex doll
and often make up her whole personality. This blog post deals with your future lover's hair and explains which wigs are included in the package and what you have to pay attention to when shopping for a new hairstyle.
Which Wig Comes with a Real Doll?
If you have already looked around our online store, you will have noticed that the real dolls in the photos have exciting outfits and beautiful hair. While the
clothing
is not a part of the delivery, you can of course look forward to the splendid hair depicted in the product pictures.

Change the Wig & Hairstyle During the Ordering Process
The wig shown in the pictures isn't your only option. You can also choose a different hair color for your real doll during the ordering process and even choose a different hair style.


Configure your sex doll completely according to your personal tastes. Maybe you prefer a blonde curly mane or a brown short bob? With some real dolls, you can also find bright colors and unusual hairstyles.
Another interesting point: How about an exciting makeup look for your real doll?


Buy Wigs Online for Your Love Doll
If your love doll has arrived and you have enjoyed yourself with it for some time, you may want something new. You don't even have to buy a new love doll right away. Sometimes a new wig is enough to refresh the whole look of your sex doll or even change her completely. Giving your sex doll a makeover is another good option.


With the love dolls available on dolloro, you can easily change the wig, which is fixed by a click closure on the head.


On the Internet, you will find a huge selection of wigs in a wide range of colors and styles. We distinguish between synthetic and human hair.
Synthetic wigs
These wigs are made of plastic and are quite cheap due to their low production costs. You can find natural or bright colors or even super colorful variations on the internet. Besides short hair styles, there is also a wide range of long hair wigs and even some in a Kawaii anime style.
The large selection and the small price are definitely quite convincing if you plan to bring variation into your doll's hair repertoire. But synthetic hair wigs also have their disadvantages, for example they have a rather unnatural shine and feeling when you run your fingers through them.
Also, you should not use heat on them, so hairdryers, straighteners and curling irons are all no goes. In addition, wig care is easy. Although you only need to comb them regularly, it can be difficult to get them into the exact style you want.


Tip: You can find nice synthetic wigs for 15 dollars on Amazon.
Real hair wigs
Real hair wigs are a on a completely different level. These, as the name suggests, are made of real hair. The real hair is cleaned, dyed, and sewn into the wig cap. This work is more complex than the mass production of synthetic wigs, which leads to a much higher price.
These wigs can also be treated with heat and can be washed and blow-dried just like your own hair. In addition, you can treat such wigs with conventional hair color or even dye them in colorful styles.
You can get good human hair wigs for your sex doll from about 80 dollars. They are definitely worth the investment if you want to build up a small but high-quality stock of hairstyles for your sex doll. As the feeling is 100% natural and soft.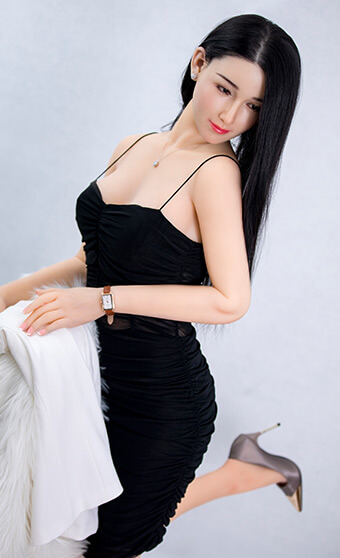 Everything's in Place! - Finding your Real Doll's Wig Size
There are different sizes of wigs, but mostly only for really high-quality hairpieces. Mainly, just the more favorable models have an elastic band that adapts to the head size of your sex doll.


Because your future
TPE sex doll
or silicone doll is super realistically designed, you can be sure that the standard wigs with elastic bands will fit her perfectly.
If you create a collection of high-quality wigs for your TPE Doll or
silicone doll
bit by bit, the following table can help you to determine the right size for your love doll:
S / Petite (small)
M / Average (medium)
L / Large (large)
XL / Extra Large (extra large)
52 - 55 cm
55 - 58 cm
58 - 60 cm
60 - 62 cm
Simply measure the circumference of the head of your real doll and order your favorite wig in the right size.
Change & Fix Wigs for Your Love Doll
No matter if synthetic or human hair wig, the wig of your love doll should fit well and should not slip even during a passionate night of lovemaking. There are only a few steps to correctly change or fix a wig to your silicone or TPE doll.
Almost all synthetic wigs and most human hair wigs have a clip closure and narrow straps in the wig cap. You can easily adjust these straps to fit the width of your love doll's head. Afterwards, you only have to put the wig on your sex doll and close the clip.
With human hair wigs, it's likely that this clip closure is missing. For a secure hold, you need a special wig glue, that you can also easily order on the Internet. Although the glue provides a good hold, the wig can easily be detached from your sex doll. However, with this variant you must expect that some glue residue may remain on her scalp.