In Which Positions Can You Have Sex with a Real Doll?
A real doll is an absolute positional wonder and can make its owner happy in the most unusual love positions. In this blog post, you can find out which ones are the best for you and your real doll. We'll also give you helpful tips on how to best position your real doll to avoid damaging it during a wild night of lovemaking.
Which Positions Can I Take with a Real Doll?
The real doll has a human-like skeleton that is made of steel, which enables it to articulate and to move in various ways. Both under the velvety soft skin of the TPE doll, as well as with a flawless silicone doll, this technical masterpiece is perfectly encased and invisible to you.
Tip: Be sure to get the free upgrade from dolloro and choose the optimized skeleton for your sex doll!
You can basically take all positions with your sex doll, that you would also take with a real woman. However, be careful when positioning the legs and arms to avoid damaging the skeleton.
A big bonus of a high-quality real doll is not only its ability to take different positions, but also to hold them. So, you don't have to worry about it moving under your weight immediately, for example in the doggy position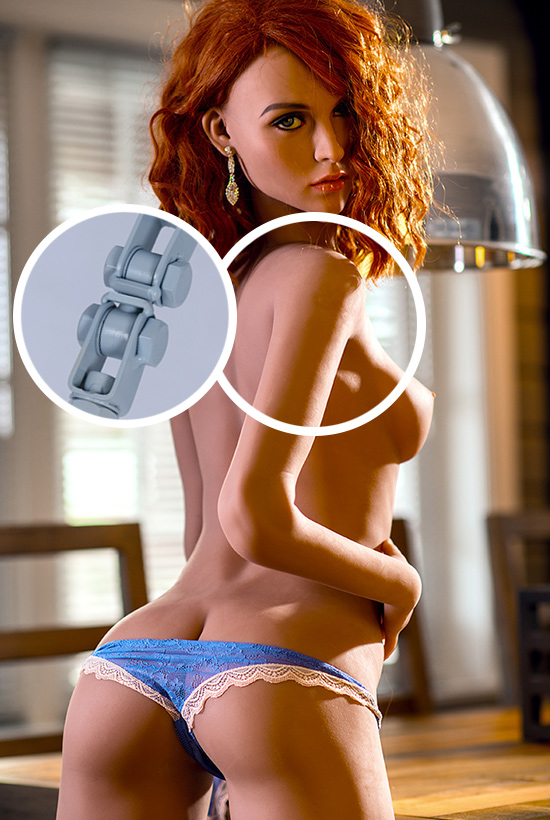 Optimized Skeleton - Free at dolloro!
At dolloro, it is our highest aim to offer you a real doll that corresponds to your wishes. This should not only look super realistic, but also offer unique sex. That's why with our Make Her Real options, you will find great additional configurations with which you can equip your beloved - completely free of charge!
If you choose our free optimized skeleton upgrade, you can look forward to a real doll with even more freedom of movement. This variant features a very high-quality construction already built into your sex doll, which can provide countless different positions.
This way you can, for example, raise the shoulders of your real doll, making every position look even more realistic. Of course, your love doll can hold its position permanently even with this skeleton!
Tip: Check out more options in our Make Her Real range and make your sex doll even more realistic.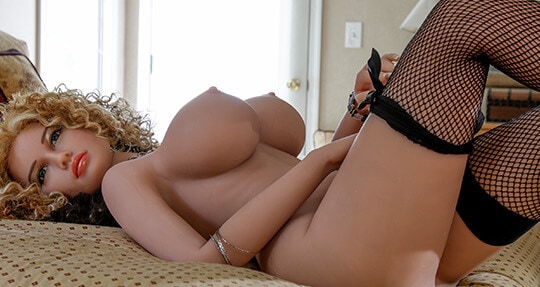 Missionary Position with a Sex Doll
The missionary position is one of the most popular sex positions, and your sex doll also has a special preference for it. You can take your sweet sex doll on the sofa, kitchen table, or in your bed.
Always play it safe and put a white sheet or the white microfibre blanket included with the sex doll under your sweetheart. Otherwise, the friction between the velvety soft skin of the TPE Doll or silicone doll with a colored or dark surface could cause unsightly discolorations. Like this, you can easily prevent this from happening and enjoy lovemaking with your sex doll without worrying about a thing.
Of course, you can bend the legs of the sex doll in the missionary position or stretch them upwards to further enhance the sexual experience. But try to be especially sensitive when bending the legs so as not to damage them.
Doggy Style with a Sex Doll
Immediately after the missionary position, doggy, deservedly stands on the second podium. You can also enjoy this especially intimate sex position without problems with your sex doll.
But you have to take the correct protective measures for your sex doll before you start. Just like with a real woman, kneeling for a long time and friction can leave possible damage on the skin of the TPE or silicone doll. Therefore, you must absolutely use a soft and light base before you can have this special fun with your love doll.
Before you finally let the sex doll kneel in front of you on all fours, consider laying her down first as this would be much easier. Put your love doll on her back and bend her legs and arms accordingly. With a gentle twist, the sex doll will be perfectly positioned in front of you when you're ready to go.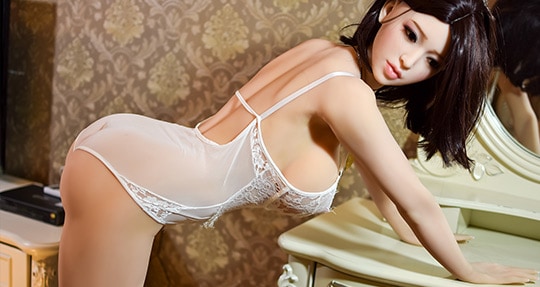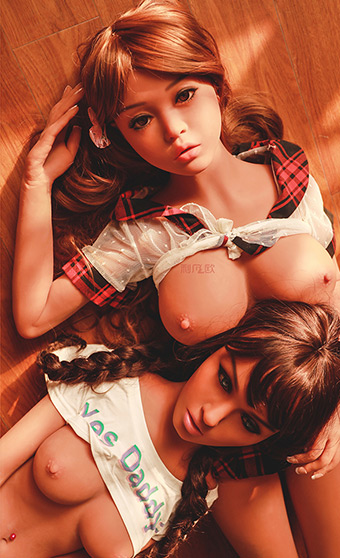 BJ from a Love Doll
Some men prefer blowjobs over anything else and, therefore, they are a must for having fun with a love doll. How you use the oral love opening of your love doll is up to you. You can put your sweet love doll in your bed or enjoy an extensive BJ from a kneeling sex doll.
As you can already guess, you have to protect the knees of the TPE Doll or silicone doll and put a light-colored surface under her.
In addition, we recommend an option from our Make Her Real range - the sexy tongue. If you choose the tongue when ordering your real doll, you can look forward to a hot extra kick with an extensive BJ. Depending on the manufacturer, a perfectly designed TPE tongue will be added to your order or immediately installed in your love doll. Let the velvety soft tongue of your new sex doll spoil you in this way!
Warning: Some manufacturers of premium luxury sex dolls do not use oral and/or anal love holes - you can find out which hole your sweet love doll is blessed with in the respective product description.
Watchout for Standing Sex!
Yes, of course, the love dolls from dolloro look and feel very realistic. But in the end, they are love dolls that cannot and must not stand on their own.
As you already know, the core of every TPE doll or silicone doll is a robust steel skeleton, which is covered by the respective material. If you want to try a little tête-à-tête standing up, the skeleton will bore through the velvety soles of the love doll's feet. These are, of course, irreparable damages, which do not look very pretty.
Our free stand function could help you and your love doll enormously. Three massive screws are installed in the soles of the feet of the love doll, these are visible, but provide for the fact that the weight of the doll is distributed evenly.
This does not mean that your love doll can be free standing or that it has a sense of balance. Thanks to the stand function, you can lean them against the wall and just have fun.
Great Aid for Sex with Your Real Doll
A sex doll has a certain weight, which can sometimes make many position changes strenuous. However, these tools can help you to make sex with your real doll especially enjoyable:
Use your furniture
You probably already have a bed, sofa, or table at home. These are perfectly suited to position your sweet sex doll on. Of course, you can also take a Real Doll on your lawn in the garden, but pieces of furniture help you to position the pleasure openings perfectly.
Simply bend the Sex Doll over the table, bed, or sofa and make sure it is at the perfect height for your pleasure. In this way, you do not have to hold or lift the TPE or silicone doll permanently.
Very important: Always place a light-colored blanket on the respective piece of furniture!
Cushion & Love swing
While a real woman can consciously lift her pelvis when making love, a Real Doll cannot. To be able to enjoy the pleasure of your sex doll comfortably, you have to make sure yourself that the pleasure openings are at the optimal height.
Pillows on which you put your Love Doll or special wedge pillows, which you can buy from Amazon for about 30 Euros, are suitable for this. These are perfect for finding the right height and are also well padded so that your Sex Doll cannot be damaged.
Of course, if you want maximum freedom of movement for your Love Doll, a love swing is essential. Once you have carefully attached your love doll, you can move the Real Doll in the desired position by light rotations of the swing without having to use much strength.
Of course, you have to make sure that the swing is really firmly anchored into the ceiling so that the TPE or silicone doll does not fall on the floor and possibly damage the skeleton.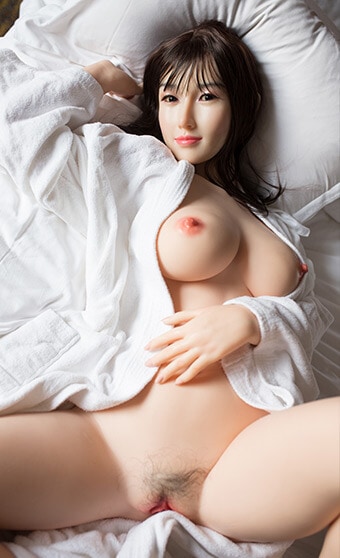 An Especially Realistic Feeling with Every Position!
The material of the your silicone or TPE doll is an absolute guarantee for a super realistic feeling, no matter in which position. But with a few more tips and tricks, you can make the experience even more realistic:

Tip 1: Take advantage of our Make Her Real options and choose the sexy tongue, hollow breasts, and optimized skeleton for a 100% realistic sex doll.

Tip 2: Warm up the pleasure openings of your TPE doll or silicone doll before you use it. Use warm water, an electric blanket, or a special USB heating rod.

Tip 3: Always use lubricant, no matter in which sex position you want to take the TPE or silicone doll. You will have a pleasant gliding speed and can enjoy every position in peace.
If you are looking for more tips and information about "how to make the experience with my sex doll even more realistic", this blog post is perfect for you: To the blog post