All About Sex Doll Breasts
A sex doll's breasts are of course a key selling point and something most fans pay special attention to. No matter whether you like very small breasts, or if really large breasts get you going, dolloro offers the right doll type for every taste.
But which breast sizes are available, how do the breasts feel, and are there significant differences between a
TPE doll
and a
silicone doll
? We explain all this and our great, free Hollow-Breast setting in detail in this post.
AA+ to G – The Different Breast Sizes
Most men have a certain type in mind that should of course be reflected in their real doll.
Perhaps you also have specific ideas and fantasies that a woman made of flesh and blood could never fulfill anyway, for example a special body type, or a companion from a magical fantasy world.
Either way, we guarantee that dolloro can offer you the right love doll with your favorite breast size.
We have slim dolls with a cute AA+ cup or a generous double-D cleavage in the style of silicone implants. Of course, we also stock curvy and chubby sex dolls with busts to suit. At dolloro, you also have the exclusive opportunity to send us an individual request, and we'll have your doll individually designed and produced together with you.
Just take a look around in the respective categories, and you'll soon find your dream sex doll:
TPE Doll vs. Silicone Doll – How the Breasts Feel to the Touch!
TPE (thermoplastic elastomers) and silicone are the main plastics used in the production of a high-quality Real Doll. Both are generally similar and have common advantages. For example, due to its properties, you can easily take a bath with your Real Doll, or warm the sex openings to make sex with your sweetheart even more realistic.
However, silicone is generally the stronger material, which in turn allows more detailed design and is therefore used in the production of premium luxury sex dolls. TPE, on the other hand, is a cost-effective material that enables manufacturers to bring a large number of different TPE doll types onto the market at relatively low prices.
Both materials feel very soft and therefore similar to skin. However, silicone is significantly smoother and a little cooler, and silicone doll lovers describe it as "absolutely flawless". TPE, on the other hand, impresses with its velvety feel. In the end, it's a matter of taste which you prefer, and we're sure you'd have a lot of fun with either variant.
If you want to find out more about the differences between TPE and silicone, be sure to take a look at our blog post: To the blog post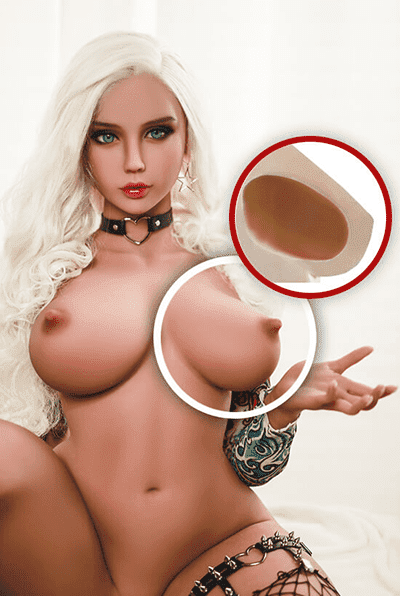 Free Hollow-Breast Setting for a Natural Feel
In the production of high-quality love dolls, the liquid TPE or silicone is poured into a previously made mold. The sturdy steel skeleton is already there, which allows you to articulate the Love Doll and is immaculately encased by the respective material.
In the case of Love Dolls with very large breasts, these may feel firm due to the large amount of TPE or silicone. Some customers love this firm feel, which can be compared to the feel of silicone breasts. But others want more softness and naturalness, even with large breasts.
That's why we at dolloro offer the Hollow-Breast setting, part of our Make Her Real series, free of charge. This configuration, which is available for sex dolls with a cup size of C and above, can easily be selected when you order your Real Doll.
How does Hollow Breasts Work?
If you choose this setting for your Love Doll, a hollow will be left in the breasts during the manufacture. Of course, the hollow is invisible. If you squeeze your Love Doll's large breasts, the material has the opportunity to occupy the hollow space. This makes it feel much softer and more natural. The setting is completely free for Dolloro customers!
Sexy Bras and Lingerie for your Sex Doll – The Dos and Don'ts
When you order a sex doll, the anticipation for her magnificent breasts is great, and soon you'll dream of a nicely packaged cleavage, the sight of which is only intended for the owner. But if you want to do something good for your sex doll's TPE or silicone breasts, you should note the following dos and don'ts:
Do's
Color fastness: Always take care when putting on her clothes and underwear. Wash the lingerie thoroughly before your beloved is allowed to wear it.
Light colors: If you want your sex doll to wear the sexy clothing longer, take care to choose light colors to avoid possible discoloration of the TPE or silicone skin.
Don'ts
Very tight lingerie: Avoid tight lingerie and bras to prevent them leaving permanent marks or damaging your silicone or TPE doll's skin, or at least don't leave them on too long.
By the way, if you want to know how to find the right bra size for your sex doll and avoid unsightly pressure points, take a closer look at this article:
See full article
Hot Bra Alternatives for your Real Doll
It can often be quite difficult to find suitable bras, especially for a Real Doll with an unnatural figure, e.g. extremely petite or very large breasts. With a little research on the Internet, you could find what you're looking for in online stores that stock special sizes. However, unfortunately, the bras they stock are often not very sexy.
So, if you don't find anything suitable for your Real Doll there, other erotic alternatives might suit your taste. For example, a negligee could be the answer. You can find these in a wide variety of cup and clothing sizes, and the wide cut will be a real boon for your beloved's TPE or silicone skin.
But corsets are also very popular when it comes to hot lingerie alternatives. Here, too, you'll find plenty of sexy items with different cup sizes, and the lacing gives you a certain leeway to emphasize the narrow waist, even with larger breasts. But always make sure not to lace the corset up too tightly!