Comparison Built-in vs. Removable Vagina for your Sex Doll
When purchasing your
sex doll
, you'll have a myriad of decisions to make. One of the most important decisions will be deciding between a built-in and a removable fake vagina. In the end, this decision will depend upon how often you will be having sex with your sex doll, your sexual preferences and the time you're able to allocate towards cleaning your silicone or TPE doll after each use.
Inside of both fake vaginas are textured ribs that simulate the feeling of a real woman's vagina. The labia on the outside of your
tpe sex doll
will look exactly the same with both a removable and built-in fake vagina. The labia can even be shaped and colored according to your preferences.
Inserting and Cleaning a Removable Vagina
To insert the removable fake vagina, lay your love doll on her back and spread her legs far apart, ensuring that you're gentle to avoid tearing her skin. Next, spread some baby powder on the outside of the fake vagina. Open the vaginal cavity of your love doll with one hand and with the other, slide the fake vagina all the way in. Ensure that you're being gentle when inserting the fake vagina, otherwise you run the risk of damaging your love doll. Once the fake vagina is properly inserted, return your love doll's legs to their normal position to prevent tearing.
One convenience of the removable fake vagina is that it can be easily replaced when it starts to deteriorate- unlike the built-in vagina. If you're considering selling your
tpe sex doll
or
silicone doll
in the future, then a removable vagina is recommended, as many buyers are concerned about cleanliness. But the main reason that most people choose the removable fake vagina is for the convenience of cleaning it. To clean a removable vagina, it can be taken out and soaked in a sink of warm, soapy water and if you're unable to wait for your insert to dry, you can purchase a second one to use in the meantime.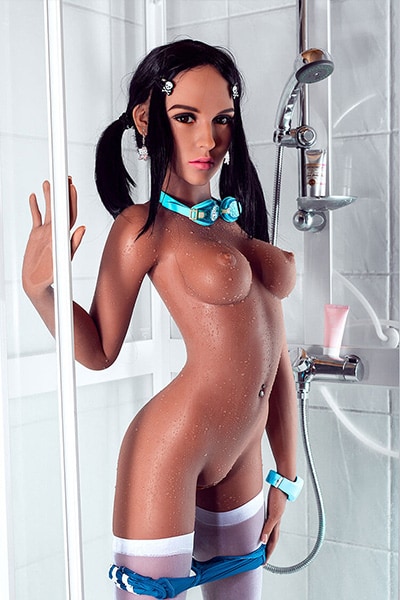 Cleaning a Built-in Vagina
All of the orifices on your real doll need to be flushed out immediately after use and they're all cleaned in the same manner. If you're concerned about the cleanup, you can wear a condom whilst having sex with your real doll, however this is not compulsory.
Unfortunately, cleaning the built-in fake vagina calls for a bit more work than cleaning the removable vaginas. You'll need to place your real doll either in the shower, bath or somewhere on top of some towels.
Using a vaginal irrigator, flush out the fake vagina with some soapy water. Flush it out again, but this time just with water to wash out the soap.
Dry the outside of your
sex doll
and place a tampon in the fake vagina to soak up any excess moisture. For more information, see our blog post on 'How to Clean a Sex Doll':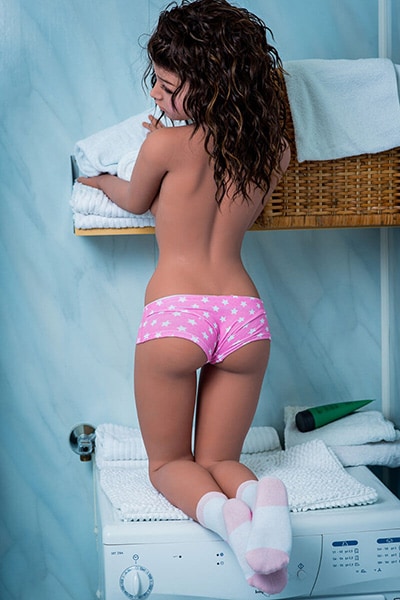 Other Sex Doll Accessories
There are many other accessories that can be added to and then removed from your
tpe sex doll
or
silicone doll
to provide the maximum amount of pleasure. With dolloro, you will have certain add-ons or accessories available with your purchase. The Make Her Real selection offers you three add-ons that will make the sex with your silicone or TPE doll absolutely sublime and realistic. The sexy tongue add-on will bring your love doll to life and she'll thank you with amazing blowjobs.
Hollow breasts will ensure soft and cushiony boobs and the shrug skeleton will allow you to put your love doll in the craziest positions.
Included in the care kit that will be delivered with your real doll is a USB heating rod. This USB vaginal heater is exactly what you need to heat up your
sex doll
before use. A warm vagina will ensure a realistic sex experience. Additionally, it's recommended that you use a water based lubricant during sex. Your love doll can't produce her own lubrication, so a store bought lube will help to take that extra step towards realism.
Want some more tips for having realistic sex with your sex doll? Check out our
blog post
!
Once you've purchased your new bedbunny, you still have many options for customisation available right at your fingertips. Consider the following:
With penis inserts, or shemale kits, your female tpe sex doll or silicone doll can be transformed in seconds. The insert has a long shaft above the penis that is inserted into the vagina.
Pubic hair patches are another option if you prefer your love dolls with more hair than they already come with.
Your doll's eyes and wig can also be changed if you'd like for her to try a different look.
If you prefer a small and handy sex toy, our masturbators could be perfect for you - check them out:
To the Masturbators