Lifelike Sex Doll vs. Inflatable Rubber Doll
In recent years, lifelike
sex dolls
have become extremely popular. The technique is now so good that these sex dolls look incredibly real and natural. Their functionality also leaves nothing to be desired and they feel like real people. Find out why the trend is clearly worlds apart from the well-known inflatable rubber dolls.
Quick Comparison: Sex doll vs. Rubber Dolls
| | Lifelike Sex Doll | Inflatable Rubber Doll |
| --- | --- | --- |
| Material | Thermoplastic elastomer (TPE): A TPE sex doll is a mixture of plastic and rubber; or silicone: Silicon polymer, carbon, hydrogen & oxygen | Plastic; sometimes the head, the love holes or the hands, feet and breasts are made of TPE or silicone |
| Skin Surface | TPE: soft & very realistic; silicone: soft but smooth and stronger than the average TPE doll | Smooth, cold & artificial |
| Feeling | Real & human | Artificial, depending on the model somewhat more realistic |
| Relationship | Very personal relationship thanks to realistic appearance; sex + relationship | Mainly for unexciting sex |
| Sex | Very realistic | Unrealistic due to the material |
| Weight | Depending on model 20 - 40 kg sex doll | Very light; dolls with TPE content correspondingly somewhat heavier |
| User Friendliness | No easy storage and transport because of the size of the sex doll | Practical to stow away and take with you |
| Level of Reality | Very realistic due to the velvety soft feel & the detailed design | Neither a realistic appearance, nor a natural sex feeling |
| Price | You get totally high-quality sex dolls with us ¡from 1,499 dollars! See sex dolls here | Super cheap variants are available from 20 dollars |
Lifelike Sex Doll
A lifelike sex doll is either made of TPE or silicone. Thermoplastic elastomers (TPE) consists of a mixture of plastic and rubber. The material convinces with a realistic and skin-like texture, softness, and flexibility. Silicone, on the other hand, consists of silicone polymer and carbon, hydrogen & oxygen. Silicone dolls are also characterized by soft skin, but smoother and firmer than the average TPE sex doll. Both materials are very kind to the skin. Keep in mind that a silicone doll is much more expensive than a TPE doll due to the detailed design.
Thanks to these material properties, every real doll that we offer convinces you with resilience, flexibility, and realism. The love openings on every sex doll are based on human anatomy and feel very realistic. The only disadvantage of these dolls is that the production of the metal skeleton, body, head etc. is very complex and this is also reflected in the price. However, if you calculate the price over the years, considering that a high-quality love doll can accompany you, this investment is worthwhile in the long run in any case.
Because a love doll feels and looks so real, you can build a very intimate and personal relationship. You feel well looked after, even loved, by your attractive and breathtaking love doll. If you allow it, this relationship can be about much more than just sex.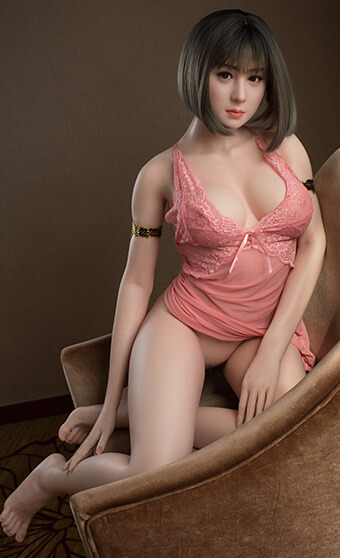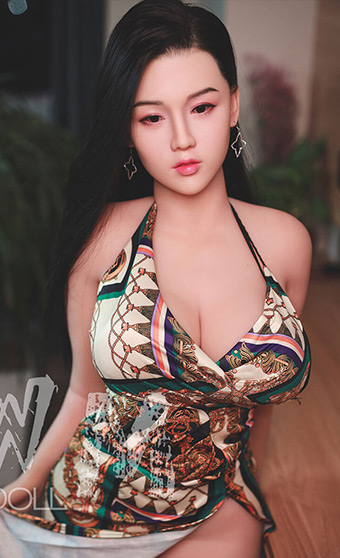 A small disadvantage that comes with purchasing a real doll is the size. Since real dolls are usually as tall as real people (between 1.35 m and 1.72 m), they are not so easy to store or transport. You can use them well for home use but taking them on holiday or similar will prove to be very difficult. On the other hand, the size and the weight (between 20 and 40 kg) is one of the reasons why a love doll is so realistic.
Inflatable Rubber Doll
Inflatable rubber dolls are made of plastic and, as the name suggests, can be inflated. This material feels artificial and, apart from the color, is not modeled on human skin. Her face is painted on and her hair is glued on. Also, the love openings are only made of plastic, are not modeled on the human anatomy and, therefore, do not feel realistic. Due to their material properties, these dolls are restricted in their movement and are not as robust and cannot take or hold positions.
Now, you're able to purchase an inflatable sex doll that has an inflatable body and a head made of TPE or silicone. In some dolls, even the love holes and the hands, feet, and breasts are made of this material. However, since the body is only made of inflatable plastic, an inflatable sex doll still looks artificial and most of the skin does not feel realistic, unlike a TPE doll or
silicone doll
.
Logically, you have to inflate your rubber doll before you can use it. This fact alone makes it difficult to maintain a human relationship with this sex doll. In addition to this, there is the fact that these kinds of sex dolls are not designed to look realistic and cannot do so because of their material surface. Therefore, this
sex doll
is suitable for your desire, however only in a very simple way. You will receive nothing more than sex.
Inflatable rubber dolls are very light because they are mainly made of a thin material and air. This makes them easy to hold but does not give the feeling of having a real woman in your arms.
When not inflated, these rubber dolls are very small. Therefore, they are well suited to take with you and can be easily stowed away. However, you should not inflate them too often and let the air out again, as this will cause the material and the seams or glued joints to weaken.