Hot group sex with Real Dolls
---
One of the most popular sex fantasies among singles as well as couples, is to participate in group sex at least once. Many couples, but also singles, want some variety in their sex life, often just hotter sex. The desire for group sex is at the top of the wish list for many couples. But how can you find reliable and safe partners for your group sex fantasy and what are the pros and cons of group sex? In this article, you will learn what you should consider when having group sex and why real dolls can be the solution for you.
What is a g**g b**g?
The term "g**g b**g" originates from the English-speaking world and is equivalent to group sex.
Back in the day, the term GB had a negative connotation because back then it was a description for gang rape.
Nowadays, group sex is something quite normal and a popular "category" in porn movies. It is a sexual practice involving more than two people. If three people come together for sexual intercourse, this is called a threesome. Some people also know the threesome as a "three-piece". When more than three people participate, this is called group sex.
Here it does not matter whether a single woman has fun with several men, a man with several women or two or more couples get together during sex and swap partners. Swinger clubs are the ideal place for couples who like to practice group sex.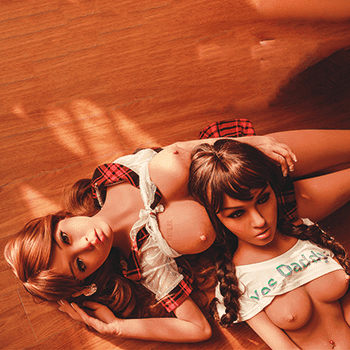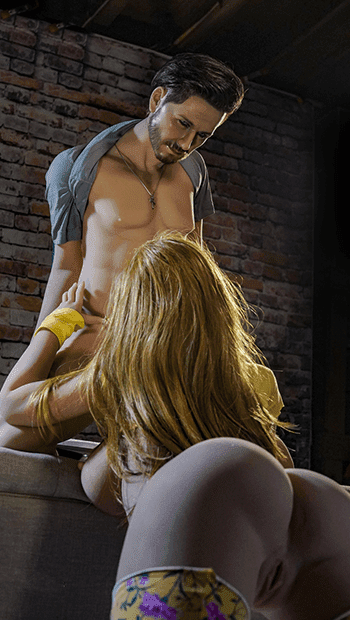 Advantages and disadvantages in real group sex
The advantages of a g**g b**gs are obvious. You have varied partners, get to know new people and - very important - find new positions and practices. So with group sex you can experience great, erotic adventures with the right partners.
However, there are also many disadvantages to using real partners in group sex . The most important disadvantage is the health aspect. Since, especially in swingers' clubs, you often only get to know your sex partners on the evening you are there, you can never be completely sure whether the partner you have chosen is also completely healthy. STDs are rarely visible to the naked eye unless they are very advanced and untreated and, unfortunately, very quickly transmissible. Mention must also be made of the risk of contracting H.I.V. if the chosen partner carries the disease and spreads it - consciously or unconsciously - through sexual intercourse.
Another very big disadvantage in real group sex, which many couples greatly underestimate, is jealousy. Your partner is having fun next to you with a stranger or strangers - seemingly more fun than he or she is having with you alone. Actually, this is quite normal, because new things are attractive. But this can also quickly lead to insecurity in the partner. Questions may arise such as: "Why don't we have this much fun together? Does he/she perhaps not love me as much as I thought? Doesn't he/she find me attractive and sexy?
Couples who are already firmly established in the exciting world of group sex and trust each other completely do not have this disadvantage, of course. Couples who are new to g**g b***g should not disregard this fact, because in the worst-case scenario, jealousy and frustration can destroy a relationship.
A disadvantage is also the sometimes quite difficult search for the right partners with whom you want to engage in the adventure of group sex. Not every person who enjoys GB is suitable, and not every nice person you meet wants group sex. The couples or singles must match your personality and basic attitude, otherwise the adventure can quickly turn into a big disappointment. A woman who is into gentle, sensitive sex with normal sex practices with a loving partner will usually not be happy with a dominant partner who is into anal rather than "vanilla sex". Exceptions prove the rule, of course.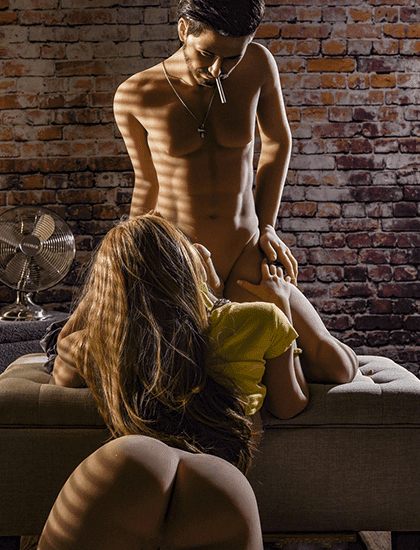 Torsos for even more variety
In addition to sex dolls, there are other "toys" that you can use during group sex to bring even more variety into the sex game. There is a variety of masturbators, torsos, or half bodies. Masturbators always work and are widely used sex toys for any occasion. While your partner is having fun with the real doll, you can give yourself pleasure with a handy masturbator.
Half bodies and torsos can also be used for more fun. While the half body gives you more of an illusion of a body, torsos, which are handy masturbators in the shape of the desired genitals, can be quickly and easily included in sex just like normal masturbators.
Conclusion
Finding the right partners for exciting group sex is not easy. With real partners, there can sometimes be too many disadvantages. You can't go wrong with real dolls, on the other hand. Neither of your partners has to step over inhibitions that he/she may not want to cross. With real dolls, you can live out all your fantasies together with your partner and have real fun in group sex - completely without inhibitions and limits.