Makeup for Your Real Doll
Makeup is quite an important topic when you're thinking about buying a real doll. Unfortunately, most real doll owners do not dare to learn about this topic at all, perhaps because they do not see the importance of it. But this article should change your mind! After reading this article, any man will be able to conjure up the perfect makeup look, according to their own taste, in just a few simple steps.
The photos of the dolls in our shop are prime examples of what good makeup looks like. This is how your sex doll's features are defined and underlined. Plus, it breathes a big portion of life into your doll, whether she is a TPE sex doll or a silicone doll.
In this article, you will learn which products you need for your home, what you need to pay attention to, and how you can give your love doll a sexy makeover without damaging her precious skin.
Makeup of a Sex Doll on Delivery
You have probably already looked through our online shop and discovered a sex doll that was of your liking. The sex dolls shown here do not come with the respective outfits and makeup looks, to ensure that you are completely free to choose which personality your sweetie should have. The sex dolls are delivered in a light standard makeup variation or completely bare.
Think of your sex doll as a white canvas that you can spice up according to your personal taste. Maybe you don't like makeup and love the natural look of a woman.
You are able to have a completely natural sex doll, a princess with a sweet light look, or a wicked femme fatale with mysterious dark makeup.
TOP TIP: Search for a makeup artist and have your love doll individually made up at home by the supplier.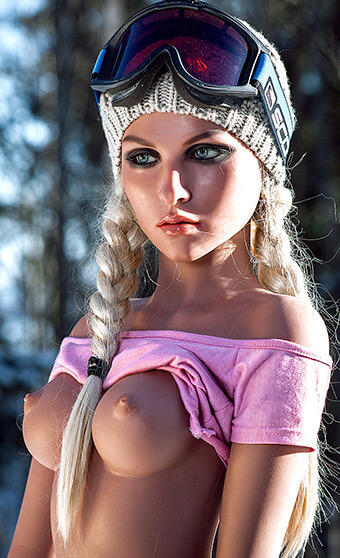 Individual Makeup - The risks for a Real Doll
If you want to change the makeup of your real doll, you must be aware of the risks. Because of course it's all well and good that you want to adapt the look of your real doll to your current tastes but be aware that there are risks.
Always keep in mind that no matter how velvety soft and realistic your TPE doll (thermoplastic elastomers) and silicone doll is, it is still not real skin. Most makeup products, on the other hand, are designed for human skin and can leave traces on the artificial materials.
This happens especially with makeup that is very heavily pigmented, such as dark eyeshadow or strong lipsticks. In particular with longer makeup wear, it is possible that the underlying TPE or silicone skin of your real doll will become discolored.
Tip: If you simply want to change the look of your sex doll, choose an exciting wig: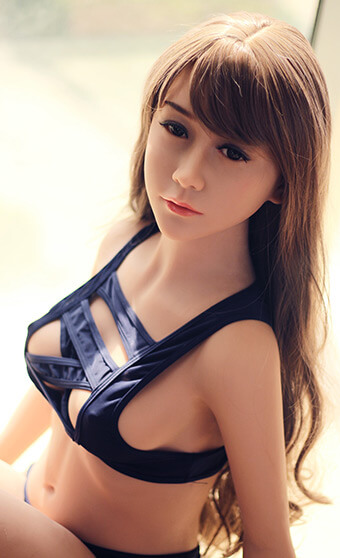 Test Makeup Products in Advance - That's How it Works!
Now it may be that you are a little insecure and perhaps you don't want to apply makeup to your love doll in fear of ruining her perfect skin. But don't worry, with a little test you can check the makeup products without running the risk of causing huge damage to your love doll.
Pick the makeup products for your love doll and then test them in a place where it won't be seen. The sole of the foot is best suited for this purpose, but also any other part of the body of your love doll where the possible discoloration of the material would not bother you.
Leave the lipstick, eyeshadow etc. on for a few hours and then remove the makeup with warm water and mild soap. You can also try out makeup removers or special wipes, but again, please only at the test site on your sex doll first. Many cleaners are too aggressive or will dry out the skin of your sex doll- especially if you own a TPE doll.
Tip: Before you apply makeup products to the face of your love doll, test it on an invisible area.
Correctly Removing Makeup & Love Doll Care
As mentioned, makeup can discolor the TPE or silicone skin of your sex doll. If you have a TPE sex doll, she is especially prone to discoloration. Even after the sole of your foot test, you must make sure that you remove the lipstick or eyeshadow you have applied in good time.
You can use warm water and mild soap (baby shampoo) or washing-up liquid, for removing makeup and also for general cleaning. This will gently remove the makeup. Avoid rough rubbing and aggressive pressure and definitely stay away from waterproof makeup products.
Makeup removers are only of limited use in this case, as they are made for human skin and may damage the artificial material. Always test products beforehand.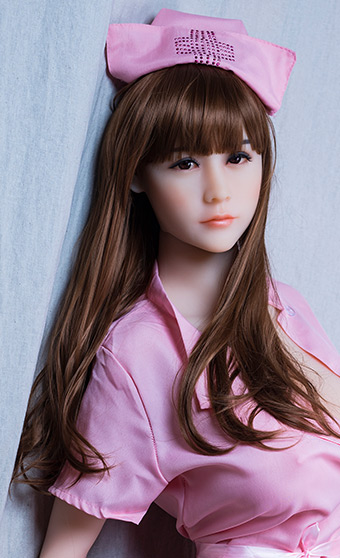 Aftercare TPE Doll and Thorough Care for Silicone Doll
After each use, your TPE sex doll or silicone doll must be cleaned and maintained thoroughly. For this purpose, we have created a detailed manual with lots of information and many tips, that you can find here on our blog.
But even after removing the makeup, care is indispensable. It's important that you brush the clean areas of your TPE doll or silicone doll with baby powder and rub her regularly with baby oil. This way, you prevent her velvety soft skin from drying out and becoming brittle.