How to properly store your Real Doll
Real dolls do not only look very realistic, they also want to be cared for like real ladies. Particularly if your
sex doll
lies or stands for a long time in the same position, a wrong or unclean storage can lead to unsightly pressure points.
TPE sex dolls
are more susceptible to this than silicone dolls because their material is softer and easier to deform. Below are some guidelines for the storage of your real doll, so that you can enjoy her company for a long time.
Discreetly store your love doll in a closet
Alternatively, you can store your doll in a special closet or piece of furniture. This is the most discreet storage solution, as there are pieces of furniture specifically designed for the storage of sex dolls, which can easily be integrated into your living room without attracting attention to their contents. For example, you can choose a couch in different sizes and colors, which can even be locked. These storage units are also well padded to keep your doll in a soft and safe environment.


You can also choose a simple sideboard that is long and wide enough for your doll. Again, this sideboard should be well padded so that your love doll does not get pressure marks from storage. If you have space under your bed, you can simply store her in the box she was delivered in. A great advantage is that the box is already padded and has the right size for your doll.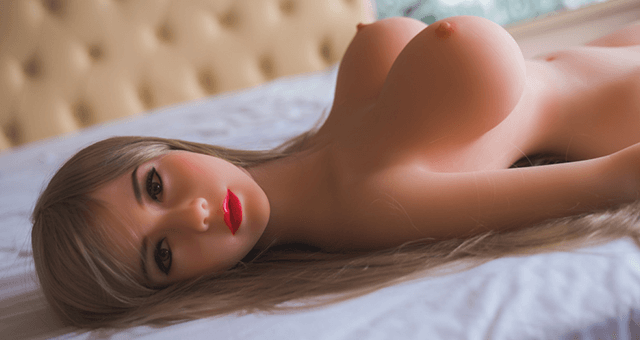 Storage challenges
During use and storage you should pay special attention to the hands of your real doll. These are very sensitive and cannot withstand a longer period of pressure without deforming or suffering damage.
In case you have chosen a sex doll with very large breasts, a normal position on her back is not the best storage option. Because of the weight of the breasts, they will fall to the side and exert a lot of pressure on the affected areas, resulting in the possible appearance of cracks between the breasts. If, on the other hand, you stretch her arms upwards, the breasts will hold and there will be no cracks or deformations.
For transportation from one room to another we recommend an office chair. This way you can easily move your her between rooms without damaging her by accidentally knocking her against door frames or pieces of furniture.
Tipp: If you have both a silicone doll and a TPE sex doll, you should not store them together under any circumstances. Silicone dissolves the cross-linking of the thermoplastic elastomers that TPE sex dolls are made of and thus damages the material of your TPE love doll.
For the same reason you should not use any silicone-containing care products or put objects made of silicone on your TPE doll.
Individual storage solution for your doll!
A soft padded lounger, specifically adapted to the body shape of your love doll, is a great solution for a sensitive TPE sex doll. You only need her individual measurements to build your own individual lounger.
The following article from a sex doll forum provides the necessary instructions on how to build such a customized lounger:
Read more
You can easily copy this at home in order to be able to store your love doll in the best possible way and enjoy her company for a long time.