Hello, I'm Shaniqua and I am 30 years old. I'm a pole dancer. I have been doing this job for several years and am a great and experienced dancer. I love to rub against and swing on the pole. I also love the attention the men give me while I show off my moves and also spoil one or two with my blowing mouth, if I really like them.
I'm lucky enough to work in one of the most exclusive nightclubs in town. Through my years of experience, I have learned how to move in a sexy way to give a man what he needs. In addition, my figure has improved a lot as a result. I have a very small waist, which I am particularly proud of. Plus, it shows off my tight ass and hips nicely.
After the night shift, I like to replace the dance pole with the pole of a well-stocked customer, if you know what I mean. And for free, of course! In my free time, thanks to dancing, I don't have to do sports anymore. I still like to go swimming though. I make really good money. That's why I can afford to go to the best spa in town every now and then. At the spa, I swim, go into the sauna, get a massage, or drink a cocktail or two.
I work most evenings at the club. When I have time off, I like to get together with my girlfriends in the evening for a funny movie and a good glass of red wine. Don't you want to come visit me at the best nightclub in town? If you like, we can also make ourselves comfortable on the couch at my place.
Product information "Shaniqua (30 years)"
Hot
sex doll
Shaniqua works as a pole dancer in the best nightclub in town. After her work on the pole, she loves to take care of the poles of her male spectators, if they are well equipped. This horny TPE doll loves it when lusty c***s stretch her tight p***y.
Due to her job as a dancer, the
love doll
has a very narrow waist and a tight ass that any guy would probably like to f**k. The real doll Shaniqua is especially well received by men who like small tits. The sweetie only has A-cup tits and therefore, never wears a bra.
The sex doll has long dark brown hair, brown eyes, and tanned skin. The horny devil likes to put on flashy make-up to attract the attention of men even more. The 1.55 m tall beauty especially emphasizes her sexy blowing mouth, which she knows how to use.
| | |
| --- | --- |
| Age: | Hot Mom (30-38 years) |
| Ass: | Bubble butt |
| Body Type: | Skinny (with visible ribs) |
| Eyecolour: | Brown |
| Gender: | Female |
| Größen in cm: | 155 |
| Hair Colour: | Brown |
| Hair Length: | Long |
| Hair Style: | Straight |
| Height: | Small (1,51-1,60 m) |
| Material: | TPE |
| Type: | Eastern European |
| Visual breast size**: | A (small) |
| Manufacturer: | WM Doll |
* Please note that the sex doll will not be delivered with pre-applied professional makeup. It was only applied for the product photos. The clothes, accessories and decorations depicted in the photos are also not included with the purchase of a sex doll.

** The visual breast size is simply a visual representation based on the figure and the proportions of the sex doll. This information is not suitable for ordering bras. For this purpose, the upper bust and full bust measurements from the size chart are used.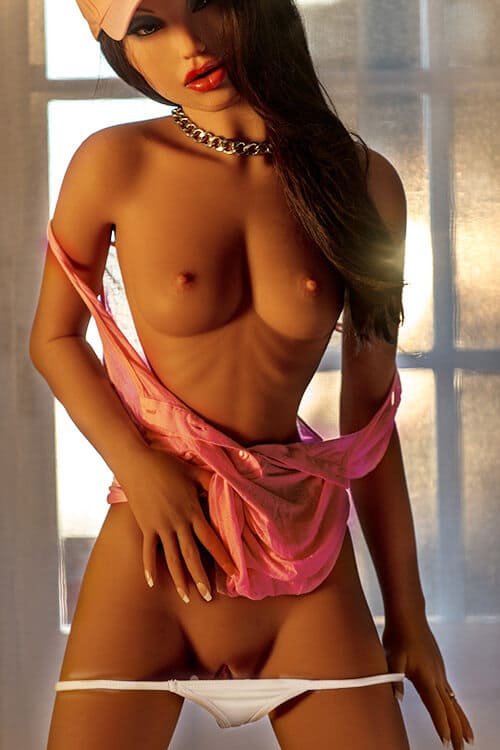 | | EU | US |
| --- | --- | --- |
| Height | 155 cm | 5.09 ft. |
| Full Bust | 95 cm | 25.2 in. |
| Under Bust | 51 cm | 20.47 in. |
| Waist | 47 cm | 15.75 in. |
| Hip | 92 cm | 30.71 in. |
| Foot Length | 20 cm | 8.27 in. |
| Shoulder Breadth | 32 cm | 13.39 in. |
| Vagina Depth | 18 cm | 7.09 in. |
| Anus Depth | 15 cm | 5.91 in. |
| Oral Depth | 12 cm | 4.72 in. |
| Weight | 27 kg | 59.52 lb. |