Hello you, my name is Scarlett and I'm a
real doll
who knows exactly what she wants. At 21 years of age, I've already had my first experiences and discovered my lust for sex. Now, I need a real man to give it to me on a regular basis. It's important to me that my new partner in bed is anything but boring, because I like it when a man takes me and shows me how it's really done.
You want to have a lot of sex all the time? Then I'm just the love doll for you! I'd like to spend the whole day in bed with you and spoil you with all of my real doll holes. My athletic, well-trained body longs for a man who deserves to own me as his own
adult doll
.
I prefer to spoil my partner's hard c**k with my mouth first, before it comes to the actual act. All of my
sex doll
holes are waiting desperately for you and your long stiff c**k that fills me completely and really satisfies me. I love anal and vaginal intercourse equally. If you, as my lover, want to squirt into my real doll mouth, then I will gladly let you.
Of course, I also like hot games. One of my favorite games is to arouse my partner and then not let him touch me. I love receiving those enchanted looks. But it doesn't always have to be wild. Sometimes I just love being fingered intimately. A hand that circles around my p***y, spoils my ass, or delicately explores my inner self just drives me crazy with pleasure.
And there's something else about me that's different from any other sex doll you may have been with. I love being watched during sex. It doesn't necessarily have to be in public. It's enough if the neighbors can see into the bedroom because the curtains aren't drawn properly. That really makes my sex doll p***y drip!
Product information "Scarlett (21 years)"
Scarlett is a
TPE sex doll
with beautifully, evenly tanned and delicate skin to which her dark brown eyes fit perfectly. Her mouth with full lips is slightly open and is already waiting to please you. With her size of 1.66 m, she is a taller TPE sex doll, with a sporty, well-built body that longs to surrender to you.
Although she is very slim, she wears a C-cup size. Her brown nipples are very firm and just waiting to be pampered by you. She is a very flexible sex doll and can be placed in almost any position you want. She also willingly presents her p***y and her shapely butt to you and invites you to get started immediately.
Scarlett is a
love doll
waiting for the perfect lover. She is always ready for lovemaking and can't wait any longer. The more often, the better!
Age:

Young (21-24 years)

Ass:

Bubble butt

Body Type:

Athletic

Eyecolour:

Brown

Gender:

Female

Hair Colour:

Blonde

Hair Length:

Long

Hair Style:

Wavy

Height:

Medium (1,61-1,66)

Material:

TPE

Type:

Latin or Mediterranean

, European

Tags:
Bubble butt

,

Large breasts (C-D)
Visual breast size**:

C-D (large)

Manufacturer:
WM Doll
* Please note that the sex doll will not be delivered with pre-applied professional makeup. It was only applied for the product photos. The clothes, accessories and decorations depicted in the photos are also not included with the purchase of a sex doll.

** The visual breast size is simply a visual representation based on the figure and the proportions of the sex doll. This information is not suitable for ordering bras. For this purpose, the upper bust and full bust measurements from the size chart are used.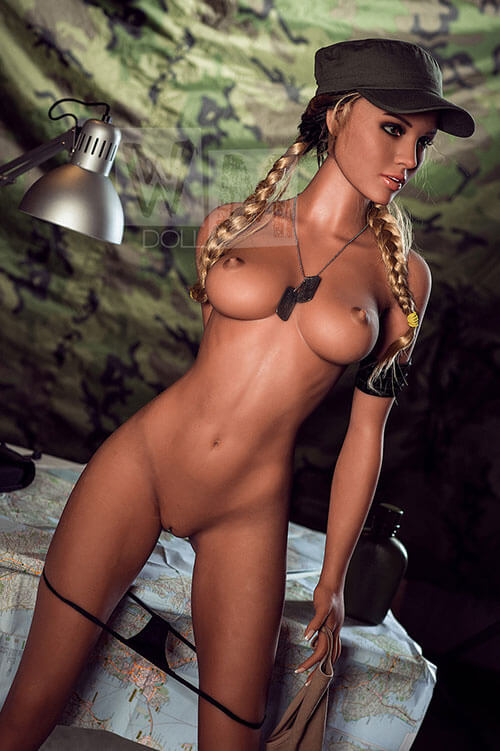 | | EU | US |
| --- | --- | --- |
| Height | 166 cm | 5.45 ft. |
| Full Bust | 81 cm | 31.89 in. |
| Under Bust | 60 cm | 23.62 in. |
| Waist | 52 cm | 20.47 in. |
| Hip | 84 cm | 33.07 in. |
| Foot Length | 20 cm | 7.87 in. |
| Shoulder Breadth | 35 cm | 13.77 in. |
| Vagina Depth | 20 cm | 7.87 in. |
| Anus Depth | 16 cm | 6.3 in. |
| Oral Depth | 12 cm | 4.72 in. |
| Weight | 33 kg | 72.75 lb. |