Do you think I'm superficial too? Most of the boys don't dare to talk to me because they think I'm such a pretty sex doll. I'm not shallow at all. I don't care what a man looks like as long as I get along with him. I'm just looking for my true love. Maybe I can find it in you. You can be sure that I will be a faithful
love doll
forever.
I'm Sadie, a 20-year-old sex doll, who is still in high school. When I finally finish school, I want to go to university and become a sports teacher. I especially like all winter sports like skiing. But I like snowboarding even more. It's so great to whiz down the hill at full speed. That feels almost as nice as being in love. And when you are really cold or want to take a break, you go to the mountain cabin. It is so romantic to drink a hot chocolate together in front of a crackling fireplace.
I dream of finally having sex in a mountain cabin. I've had sex a few times, but never in a mountain cabin. That would be so incredibly romantic. When I imagine you caressing my skin very gently, I already get pleasant goose bumps all over my
adult doll
skin. How nice it would be if you would stroke my nipples and my p***y very gently and then lick them very slowly.
I love tender sex! You must be the tenderest man in the whole world. I'm looking forward to seeing you! Do you want to touch my
real doll
tits with your strong hands? After sex, I would like to fall asleep in your arms and when we wake up together in the morning, we can pick up right where we left off.
Product information "Sadie (20 years)"
Sadie is a
TPE sex doll
who likes to have tender sex. However, she is still quite inexperienced and has a lot to learn. She is a real doll who loves romance. With a height of 1.66 m and her sexy C-cup tits, she is an absolute eye-catcher. When she looks at you with her big brown eyes and sweet pout, you just fall in love with this blonde sex doll.
Her light skin is velvety soft and wants to be pampered and caressed. This
sex doll
wishes for nothing more than to finally find her true love. She likes to wear sporty clothes and sexy, plain-colored underwear like pink thongs or G-strings to cover her real doll p***y. The love doll Sadie is also funny and charming. She is every man's dream!
Age:

Teens (18-20 years)

Ass:

Bubble butt

Body Type:

Athletic

, Normal (average)

Eyecolour:

Brown

Gender:

Female

Hair Colour:

Blonde

Hair Length:

Long

Hair Style:

Straight

Height:

Medium (1,61-1,66)

Material:

TPE

Type:

Scandanavian

, American sweet heart

, European

, Eastern European

Tags:
Teens(18-20 years)

,

Bubble butt

,

Large breasts (C-D)
Visual breast size**:

C-D (large)

Manufacturer:
WM Doll
* Please note that the sex doll will not be delivered with pre-applied professional makeup. It was only applied for the product photos. The clothes, accessories and decorations depicted in the photos are also not included with the purchase of a sex doll.

** The visual breast size is simply a visual representation based on the figure and the proportions of the sex doll. This information is not suitable for ordering bras. For this purpose, the upper bust and full bust measurements from the size chart are used.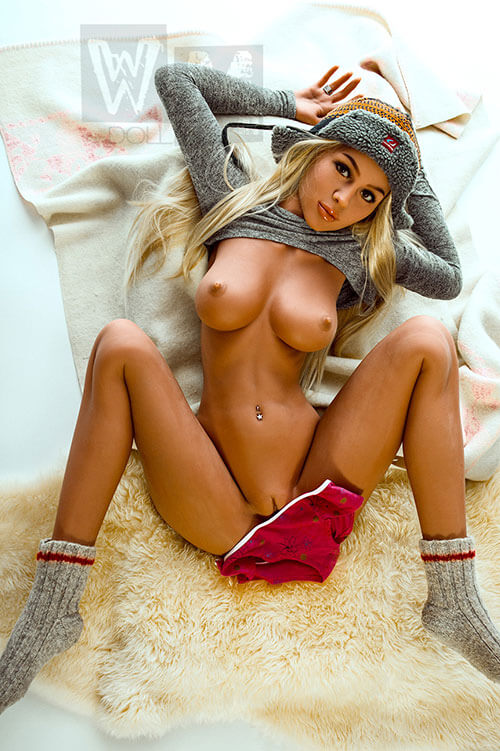 | | EU | US |
| --- | --- | --- |
| Height | 166 cm | 5.45 ft. |
| Full Bust | 81 cm | 31.89 in. |
| Under Bust | 62 cm | 24.41 in. |
| Waist | 53 cm | 20.87 in. |
| Hip | 84 cm | 33.07 in. |
| Foot Length | 21 cm | 8.27 in. |
| Shoulder Breadth | 42 cm | 16.54 in. |
| Vagina Depth | 18 cm | 7.09 in. |
| Anus Depth | 15 cm | 5.91 in. |
| Oral Depth | 12 cm | 4.72 in. |
| Weight | 33 kg | 72.75 lb. |