Psssst, you have to promise me that what I'm about to say will stay between us. My name is Robyn, I'm 18 years old and my sexuality is still in the making! At least I think that I'll definitely be a good sex doll partner and my ambition will help me to please any man.
When I'm not attending lectures - my first semester started this year - I'm very active in sports. So, you can look forward to a young and firm body if you choose me as your love doll playmate.
I just think that going to the gym is too boring, which is why I'm in several sports clubs, including athletics and swimming. As far as I'm concerned there's nothing better than making my body work up a sweat - on and off the sports field. I also really enjoy it when all eyes are on my hot real doll body during competitions and my cute curves are showing under my tight sports clothes.
Because my super-conservative parents can't say anything here; after all, I need tight swimsuits to be able to glide effectively through the water. If I wore something like this outside of the pool, I'd be in a lot of trouble.
I would love to live out my wish to finally be a real bed bunny with you and to gain exciting experiences on hot nights which neither of us will forget!
You can come to one of my competitions and cheer me on. Then I'll secretly suck your d**k in the locker room.
Product information "Robyn (18 years)"
Robyn is a very cute sex doll who knows that she wants to be more than just a
love doll
with a baby face. This 1.72 m-tall real doll has beautiful light-brown skin and a super-tight body with a convincing apple-shaped butt. This sex doll's perfect figure is crowned by a tight B-cup, which you absolutely have to pay attention to when making love to her.
But this love doll's adorable face is also an absolute eye-catcher. Her big amber eyes, long black hair and sensual lips want to seduce her new
real doll
owner.
Age:

Teens (18-20 years)

Ass:

Bubble butt

Body Type:

Athletic

Eyecolour:

Brown

Gender:

Female

Hair Colour:

Black

Hair Length:

Medium

Hair Style:

Straight

Height:

Tall (1,67-1,73 m)

Material:

TPE

Type:

Latin or Mediterranean

, European

Tags:
Bubble butt

,

Teens(18-20 years)
Visual breast size**:

B (medium)

Manufacturer:
WM Doll
* Please note that the sex doll will not be delivered with pre-applied professional makeup. It was only applied for the product photos. The clothes, accessories and decorations depicted in the photos are also not included with the purchase of a sex doll.

** The visual breast size is simply a visual representation based on the figure and the proportions of the sex doll. This information is not suitable for ordering bras. For this purpose, the upper bust and full bust measurements from the size chart are used.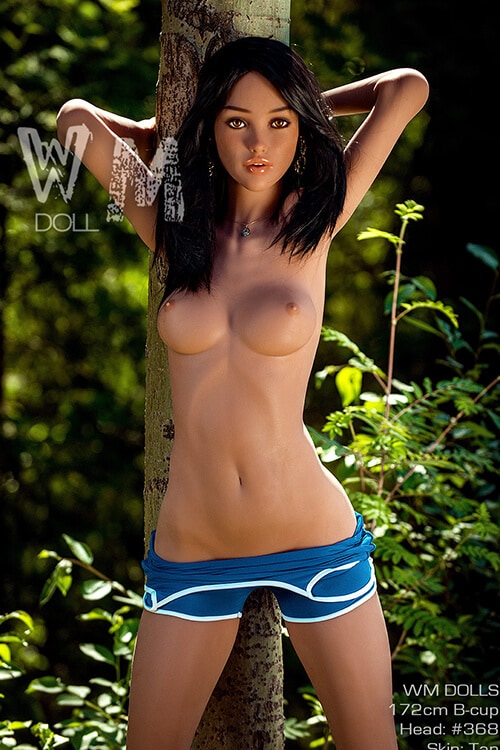 | | EU | US |
| --- | --- | --- |
| Height | 172 cm | 5.64 ft. |
| Full Bust | 79 cm | 31.10 in. |
| Under Bust | 66 cm | 25.98 in. |
| Waist | 58 cm | 22.83 in. |
| Hip | 86 cm | 33.86 in. |
| Foot length | 21 cm | 8.27 in. |
| Shoulder Breadth | 38 cm | 14.96 in. |
| Vagina Depth | 18 cm | 7.09 in. |
| Anus Depth | 15 cm | 5,91 in. |
| Oral Depth | 12 cm | 4.72 in. |
| Weight | 39 kg | 85.98 lb. |