Hello, my name is Rachel. I am 25 years old and I'm a paralegal. Most people think my job is very stuffy. That's true, too, for the most part. But there are some exceptions! Me, for one!
I am anything but stuffy or prudish. You know what I love most about sex? The variety! That's why I'm really into role-playing games. My favorite thing to do is play the innocent schoolgirl and let my teacher punish me profusely for bad grades.
I'm sure you would make a very good math teacher. But at the same time, I am also sure that I will get bad grades in the tests. I'm just wondering what it would be like if you punished me, and more importantly, how you would do it. I get all tingly just thinking about it. I think my panties are already moist with anticipation.
But I also like other roles. Every now and then, I like to slip into the role of the hot dominatrix to force my sex partner on his knees and punish him. I bet you'd like to lick my boots, wouldn't you? Maybe you'll get lucky and I'll let you lick my boots as a reward or maybe even my shaved p***y! Or are you more the type who likes to get arrested?
If you ask me, I make a very good cop. Probably because as a paralegal, I deal with cops frequently and know exactly how they go about interrogations, etc. Accordingly, I am very authentic in sexual role-playing. However, I don't just like playing the policewoman, I also like playing the prisoner who has to surrender to the policeman's sexual desires in order for him to release her.
Unfortunately, you're not near me. Otherwise, I'd let you f**k me right now, because I'm so damn horny. I'll just have to do it myself for now. Hope to see you soon!
Product information "Rachel (25 years) "
The sexy
love doll
Rachel is a paralegal. Her job is usually very stuffy and prudish. However, the hot sex doll is anything but prudish. No one suspects that the horny b***h is totally into role-playing and likes to slip into different roles, such as the prisoner, the policewoman, doctor, or dominatrix. Her favorite role, however, is the innocent schoolgirl who is punished for her poor grades by her math teacher.
For this reason, the
real doll
prefers to wear schoolgirl outfits with skirts so short that you can almost see her hungry, shaved c**t. The love doll Rachel is 1.64 m tall. She has long, blond hair and green eyes.
Sex doll
Rachel loves getting her firm ass spanked. She also likes it when roughly handle her big F-cup tits. Every man is guaranteed to have a lot of fun with this horny devil!
Age:

Mature (25-29 years)

Ass:

Big ass

Body Type:

Curvy (hour glass figure)

Eyecolour:

Green

Gender:

Female

Hair Colour:

Blonde

Hair Length:

Long

Hair Style:

Curly

Height:

Medium (1,61-1,66)

Material:

TPE

Type:

Scandanavian

, American sweet heart

Visual breast size**:

DD and above (extra large)

Manufacturer:
WM Doll
* Please note that the sex doll will not be delivered with pre-applied professional makeup. It was only applied for the product photos. The clothes, accessories and decorations depicted in the photos are also not included with the purchase of a sex doll.

** The visual breast size is simply a visual representation based on the figure and the proportions of the sex doll. This information is not suitable for ordering bras. For this purpose, the upper bust and full bust measurements from the size chart are used.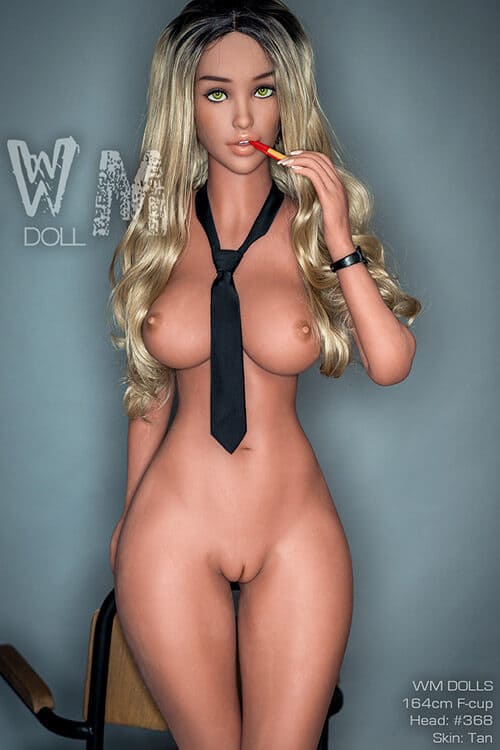 | | EU | US |
| --- | --- | --- |
| Height | 164 cm | 5.38 ft. |
| Full Bust | 78 cm | 30.71 in. |
| Under Bust | 56 cm | 22.05 in. |
| Waist | 61 cm | 24.02 in. |
| Hip | 91 cm | 35.83 in. |
| Foot Lenght | 21 cm | 8.27 in. |
| Shoulder Breadth | 34 cm | 13.39 in. |
| Vagina Depth | 18 cm | 7.09 in. |
| Anus Depth | 15 cm | 5.90 in. |
| Oral Depth | 12 cm | 4.72 in. |
| Weight | 33 kg | 72.75 lb. |