Hello, my name is Poppy. I am a 29-year-old
sex doll
and, for good reason, I still live with my parents. My parents are rich, you know. So, I'm a daughter by profession, so to speak. As long as I meet my father's demands, I can do whatever I want. When important events are coming up, I have to come along, smile, and make my father's business partners feel good. However, as a real doll, I sometimes do that in a slightly different way and not the way my father imagines it.
My parents are often out on business trips, which leaves me home alone at the villa and allows me to party with my sex doll friends, for example. I also love to go out for cocktails, dancing, and of course shopping. When I have the villa to myself, I have already had fun in the pool with a few of my father's business partners. I let them f**k me as their sex doll. Sometimes I even did it with several of the business partners at the same time in the pool. One of the guys is breathtakingly good at eating me out.
He just pulled down my bikini bottoms without warning and licked and fingered my greedy sex doll p***y. Then, he pushed me into the pool and gave it to me rough. First in my tight little p***y and then in my
real doll
ass. Since then, I have been getting it from these business partners, which I, by the way, enjoy very much. My father's business is going even better!
If you want to make me a happy sex doll, you don't have to be rich, even though I enjoy the luxury life, of course. To me, as a
love doll
, it is enough if you f**k me regularly, preferably daily, in all my holes!
Product information "Poppy (29 years)"
The
TPE sex doll
Poppy is a spoiled girl from a rich family. With her sexy figure, black shoulder-length hair, blue eyes and slightly tanned skin, this love doll drives her father's business partners crazy.
Her greedy p***y is usually already wide open and is just waiting to be filled by you. The
TPE doll
Poppy loves to take it in both the ass and the p***y, preferably at the same time. Moreover, the sex doll needs you to knead her plump E-cup tits properly and release yourself on them after a good f**k.
The 1.62 m tall TPE sex doll not only loves sex, but she also likes to go shopping. She prefers to buy sinfully tight bikinis with which she can enhance her love doll body and seduce her father's business partners.
Age:

Mature (25-29 years)

Ass:

Big ass

Body Type:

Normal (average)

Eyecolour:

Grey

Gender:

Female

Hair Colour:

Black

Hair Length:

Medium

Hair Style:

Straight

Height:

Medium (1,61-1,66)

Material:

TPE

Type:

Latin or Mediterranean

, European

, Eastern European

Visual breast size**:

DD and above (extra large)

Manufacturer:
WM Doll
* Please note that the sex doll will not be delivered with pre-applied professional makeup. It was only applied for the product photos. The clothes, accessories and decorations depicted in the photos are also not included with the purchase of a sex doll.

** The visual breast size is simply a visual representation based on the figure and the proportions of the sex doll. This information is not suitable for ordering bras. For this purpose, the upper bust and full bust measurements from the size chart are used.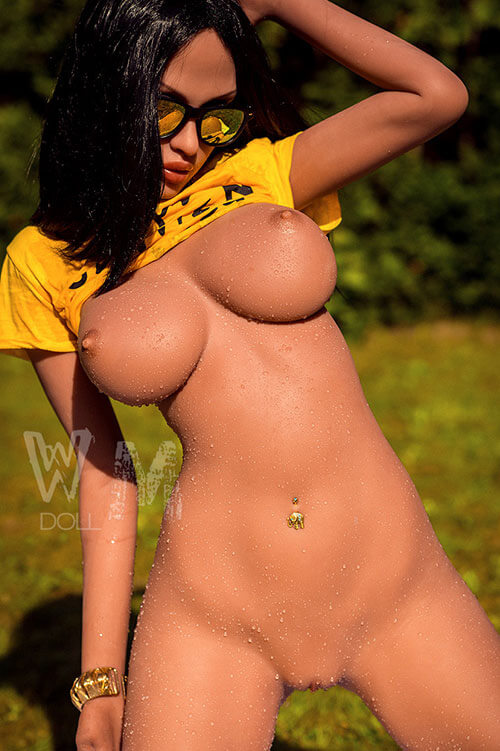 | | EU | US |
| --- | --- | --- |
| Height | 162 cm | 5.32 ft. |
| Full Bust | 81 cm | 31.89 in. |
| Waist | 57 cm | 22.44 in. |
| Hip | 91 cm | 35.83 in. |
| Foot Length | 22 cm | 8.66 in. |
| Shoulder Breadth | 37 cm | 14.57 in. |
| Vagina Depth | 18 cm | 7.09 in. |
| Anus Depth | 15 cm | 5.91 in. |
| Oral Depth | 12 cm | 4.72 in. |
| Weight | 35 kg | 77.16 lb. |