Hi, I'm Nyoko. I am 21 years old and studying dentistry. I know exactly what I want! I already have my entire life planned out and keep a close eye on my goals. One day, I would like to open my own dental practice. I have my life absolutely under control and fully structured. I just can't seem to get my sex life together. Can you maybe help me with that?
I have had a few sexual encounters and am definitely interested in sex as long as it's fulfilling. My sex dates were never fulfilling and usually very chaotic. It almost makes you not want to have sex anymore. But I'm curious if there isn't still a man who will manage to bring me to orgasm and who can show me that sex can be exciting. I know it can be. When I masturbate, I always c*m. But it would be nice to feel what it's like to have someone else make my p***y twitch. I think you know what I mean.
So, I need a man by my side to add some structure into my sex life. I don't have to have sex on a schedule. It would be just great to have sex regularly and also to orgasm with a man once in a while. Of course, I also want variety in sex. For example, I dream of having sex with several men at the same time. Maybe a threesome. Not like a g**g b**g, but just a nice intense f**k. I wonder if you're the right person to give my sex life more structure I would like us to figure this out together.
Product information "Nyoko (21 years) "
Sexy love doll Nyoko is dentistry student. She has her life completely structured and knows exactly what she wants. It's just that her sex life isn't quite going the way the beautiful medical student would like it to. That's why she's now on the lookout for a man to help her bring structure to her sex life. Besides, the hot
sex doll
dreams of having sex with several men one day.
So far, the guys she's had sex with have failed to bring her to orgasm. She finally wants to change that. Beautiful
real doll
Nyoko has long straight black hair and pretty eyes. Her porcelain skin is velvety soft.
The 1.65 m tall
love doll
has firm D-cup tits. This sex doll prefers to wear classic dresses that are sexy but not too sexy. She always wears high heels in the same color as the dress.
Age:

Young (21-24 years)

Ass:

Small ass

Body Type:

Normal (average)

Eyecolour:

Brown

Gender:

Female

Hair Colour:

Brown

Hair Length:

Long

Hair Style:

Straight

Height:

Medium (1,61-1,66)

Material:

TPE with a silicone head

Size in ft.:

5,41

Type:

Asian

Tags:
Asian

,

Large breasts (C-D)
Visual breast size**:

C-D (large)

Manufacturer:
WM Doll
* Please note that the sex doll will not be delivered with pre-applied professional makeup. It was only applied for the product photos. The clothes, accessories and decorations depicted in the photos are also not included with the purchase of a sex doll.

** The visual breast size is simply a visual representation based on the figure and the proportions of the sex doll. This information is not suitable for ordering bras. For this purpose, the upper bust and full bust measurements from the size chart are used.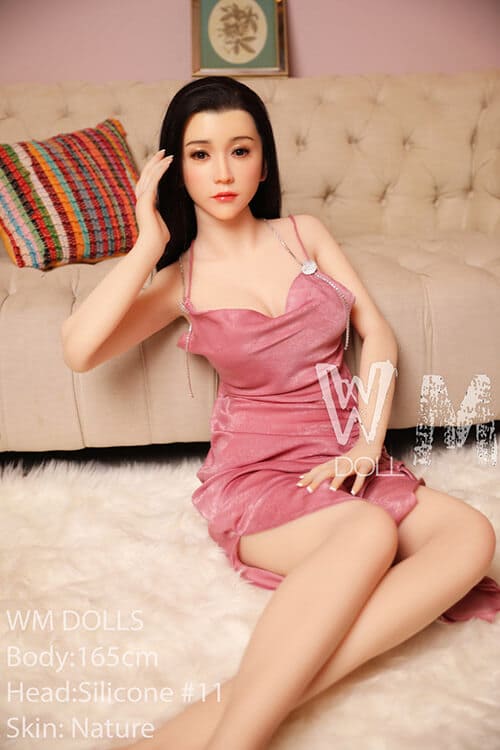 | | EU | US |
| --- | --- | --- |
| Height | 165 cm | 5.41 ft. |
| Full Bust | 87 cm | 34.25 in. |
| Under Bust | 83 cm | 32.68 in. |
| Taillenumfang | 66 cm | 25.98 in. |
| Hip | 96 cm | 37.79 in. |
| Foot Length | 21 cm | 8.27 in. |
| Shoulder Breadth | 36 cm | 14.17 in. |
| Vagina Depth | 18 cm | 7.09 in. |
| Anus Depth | 15 cm | 5.91 in. |
| Weight | 42 kg | 92.59 lb. |