Men say that I'm sweet and sexy! My name is Nelly and I am a 21-year-old
love doll
. The last boy I was with cheated on me. I was always a loyal sex doll and would probably have done anything for him. It took me a long time to get over it. Now I am finally ready for something new!
I wish I had a boyfriend who I could take care of. I want to pamper him endlessly. I think I'm pretty good at that myself. After all, I am not only a faithful
sex doll
, but I like to take care of people in general. That is why I decided to become a nurse after graduating from school.
I am almost finished with the training. Would it turn you on if I put on my nurse outfit for you and then took care of you?
I am faithful, but I have to admit that I really enjoy it when guys look at my firm
adult doll
tits as they bounce up and down while running. I like to wear shirts made from thin fabric. Often, I do not wear a bra so that you can see my hard nipples.
Once I wore a thin white shirt in the summer when I was in town. Suddenly it started raining and through my thin shirt you could see my tits. Oh man, I was embarrassed, but at the same time it was so exciting when the men looked at my tits.
Such embarrassing situations happen to me from time to time. I hope you don't mind that I'm a little clumsy sometimes. Actually, I'm quite fond of showing off my real doll body, too.
My job as a nurse is quite exhausting, but I also enjoy it tremendously. To compensate, I like to paint with oil colors. Sometimes I even use my whole
TPE doll
body for that. I paint myself with the colors and then roll myself over the canvas.
Would you like to become artistically active with me sometime? It would be really cool if we could soap each other up afterward in the shower and you wash my tits and my p***y thoroughly.
Product information "Nelly (21 years)"
Sweet Nelly is a
TPE sex doll
that looks a little innocent at first sight. However, as everyone knows, still waters are deep and dirty. This sex doll knows exactly how to wrap men around her finger with her charms.
Nevertheless, she is absolutely faithful to her boyfriend and devotedly cares for him and his sexual desires. This love doll is 1.57 m tall and has hot B-cup tits. Her petite sex doll body makes every man weak and awakens their protective instinct.
However, the
real doll
Nelly is a love doll who wants to be protected, but also f****d hard all night. Her red hair and brown eyes look innocent, sweet, and yet dangerous. Her belly button piercing is almost like a signpost to her tight sex doll p***y, which she likes to hide under colorful, playful, lacey underwear.
However, Nelly rarely wears bras because she enjoys how men look at her boobs.
Age:

Young (21-24 years)

Ass:

Small ass

Body Type:

Normal (average)

Eyecolour:

Brown

Gender:

Female

Hair Colour:

Red

Hair Length:

Shoulder length

Hair Style:

Curly

, Wavy

Height:

Small (1,51-1,60 m)

Material:

TPE

Type:

Scandanavian

, European

, Eastern European

Visual breast size**:

B (medium)

Manufacturer:
WM Doll
* Please note that the sex doll will not be delivered with pre-applied professional makeup. It was only applied for the product photos. The clothes, accessories and decorations depicted in the photos are also not included with the purchase of a sex doll.

** The visual breast size is simply a visual representation based on the figure and the proportions of the sex doll. This information is not suitable for ordering bras. For this purpose, the upper bust and full bust measurements from the size chart are used.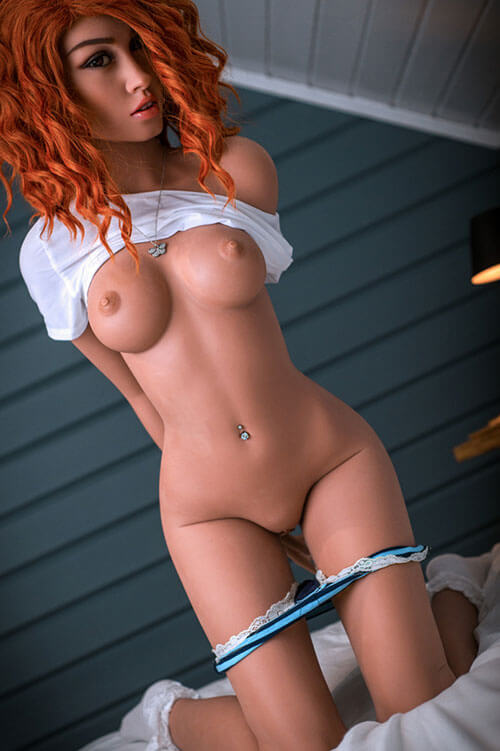 | | EU | US |
| --- | --- | --- |
| Height | 157 cm | 5.15 ft. |
| Full Bust | 67 cm | 26.37 in. |
| Under Bust | 52 cm | 20.47 in. |
| Waist | 48 cm | 18.89 in. |
| Hip | 75 cm | 29.52 in. |
| Foot Length | 21 cm | 8.26 in. |
| Shoulder Breadth | 33 cm | 12.99 in. |
| Vagina Depth | 23 cm | 9.05 in. |
| Anus Depth | 15 cm | 5.91 in. |
| Oral Depth | 13 cm | 5.11 in. |
| Weight | 29 kg | 63.93 lb. |