Hi, I'm Leona and I'm a 24-year-old
sex doll
. I'm a real gamer girl. Video games and everything that has to do with them are my absolute passion. That's why I sometimes dress up as one of the video game characters and make cosplay videos of them. I design and make the costumes myself. That's where my profession as a seamstress comes in handy. I create designer fashion made to measure. I particularly enjoy sewing elaborate and imaginative dresses for my female customers or unusual suits for my male customers.
At my job, of course, I sit in front of the sewing machine a lot. As a gamer-girl
love doll
, I also spend a large part of my free time sitting. That's why I do sports to balance it out. I enjoy this, too. I go jogging and do yoga every day. With yoga I make sure that I stay flexible and it relaxes me. Many of my friends envy me for being the calm one in every situation. I'm just a very relaxed person.
If you ask me what I like best about body, I'd say it's my big
real doll
tits. I am rather delicately built, have a narrow waist and a small ass. But my tits are just luscious. I love it when a man plays with them. If he oils them up nicely and massages them vigorously. Plus, I'm really into titty f*****g. I really enjoy it.
I wish I had a boyfriend again. I'm getting really sick of being single. Maybe you're just the man for me. I am a very faithful sex doll and would wish nothing more than to give you a lot of love. You like big tits? Then, I am definitely the right real doll for you!
Product information "Leona (24 years)"
The
TPE sex doll
Leona is very creative! She loves to play video games. This sex doll likes to transform herself with home-made costumes into her favorite video game characters, which are often very sexy. Leona is 1.61 m tall and she is a very slim
adult doll
. She has a nice, narrow waist, which makes her thick G-cup tits look even bigger. This real doll is especially proud of her luscious tits. She loves to show them off in much too tight tops or knotted T-shirts. She enjoys men staring at them.
Leona likes to wear tight sports shorts. She is a love doll that can wrap men around her fingers with her light, velvety soft skin, reddish brown, chin-length hair and dreamy brown eyes. Every man becomes weak at the sight of her big tits.
Age:

Young (21-24 years)

Ass:

Small ass

Body Type:

Petite

Eyecolour:

Brown

Gender:

Female

Hair Colour:

Brown

Hair Length:

Shoulder length

Hair Style:

Straight

Height:

Medium (1,61-1,66)

Material:

TPE

Type:

European

, Asian

Tags:
Asian
Visual breast size**:

DD and above (extra large)

Manufacturer:
WM Doll
* Please note that the sex doll will not be delivered with pre-applied professional makeup. It was only applied for the product photos. The clothes, accessories and decorations depicted in the photos are also not included with the purchase of a sex doll.

** The visual breast size is simply a visual representation based on the figure and the proportions of the sex doll. This information is not suitable for ordering bras. For this purpose, the upper bust and full bust measurements from the size chart are used.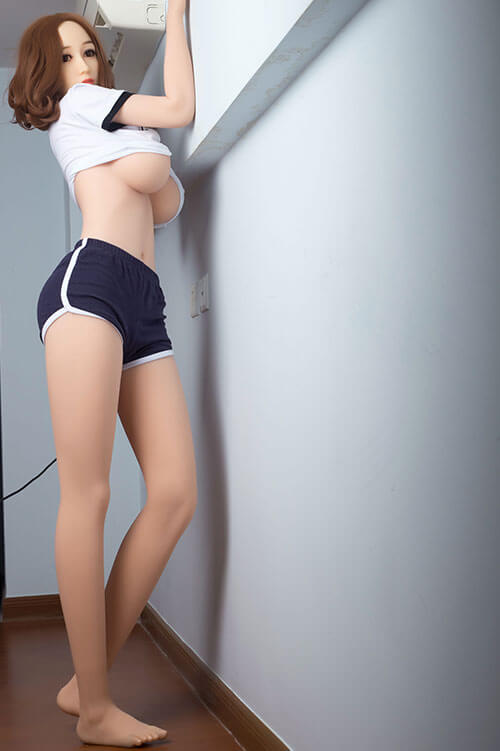 | | EU | US |
| --- | --- | --- |
| Height | 161 cm | 5.28 ft. |
| Full Bust | 91 cm | 35.83 in. |
| Under Bust | 67 cm | 26.38 in. |
| Waist | 60 cm | 23.62 in. |
| Hip | 84 cm | 33.07 in. |
| Foot Length | 22 cm | 8.66 in. |
| Shoulder Breadth | 36 cm | 14.17 in. |
| Vagina Depth | 18 cm | 7.09 in. |
| Anus Depth | 15 cm | 5.91 in. |
| Oral Depth | 12 cm | 4.72 in. |
| Weight | 35 kg | 77.16 lb. |