You have to promise me that nobody will find out we've been talking to each other, otherwise I could be in a lot of trouble. Because I'm not a genuine little angel, but I'm very interested in sex and I hope to become a beloved playmate soon.
My name is Laura, I'm 18 years old and I'm in the last grade at an elite boarding school. This year I'm starting university and I sincerely hope to be able to spend my time there as a sexy student.
My parents are pretty worried about me, which is why they've always kept me away from men. Even at boarding school, I didn't meet anyone who really interested me. My only interest in becoming a playmate is about sex. So that I can really be ready for my first time and I can totally pamper my beloved partner, I've looked through a book or two. At the risk of sounding conceited, I can safely say that I know a lot about sex - but unfortunately only in theory. I hope you can change that and make me a playmate!
If you're quite inexperienced yourself, we're going to have a lot of fun exploring our bodies and finding sex practices and positions together which really drive us wild. I'm looking forward to feeling your closeness, your kisses and your touch and I promise you that I'm a very well-behaved student who's ready to learn.
Product information "Laura (18 years)"
Laura is a sweet and shy
love doll
who doesn't really know much yet. Of course, she has the theoretical knowledge to be a good sex doll, but she needs the guidance of a strong-willed sex doll owner.
This sex doll is 1.62 m tall and has a beautiful light complexion, so she's more of the Scandinavian type. With her super-slim figure, big bubble butt and extremely plump D-cup breasts, this love doll has unknowingly turned the heads of plenty of men.
Now you could be the first to show this blonde love doll with huge blue eyes the art of love. As her sex teacher, however, you won't be able to get particularly strict with this hot
sex doll
when she makes her cute pout.
Age:

Teens (18-20 years)

Ass:

Bubble butt

Body Type:

Normal (average)

Eyecolour:

Blue

Gender:

Female

Hair Colour:

Blonde

Hair Length:

Long

Hair Style:

Straight

Height:

Medium (1,61-1,66)

Material:

TPE

Type:

Scandanavian

Tags:
Bubble butt

,

Teens(18-20 years)
Visual breast size**:

DD and above (extra large)

Manufacturer:
WM Doll
* Please note that the sex doll will not be delivered with pre-applied professional makeup. It was only applied for the product photos. The clothes, accessories and decorations depicted in the photos are also not included with the purchase of a sex doll.

** The visual breast size is simply a visual representation based on the figure and the proportions of the sex doll. This information is not suitable for ordering bras. For this purpose, the upper bust and full bust measurements from the size chart are used.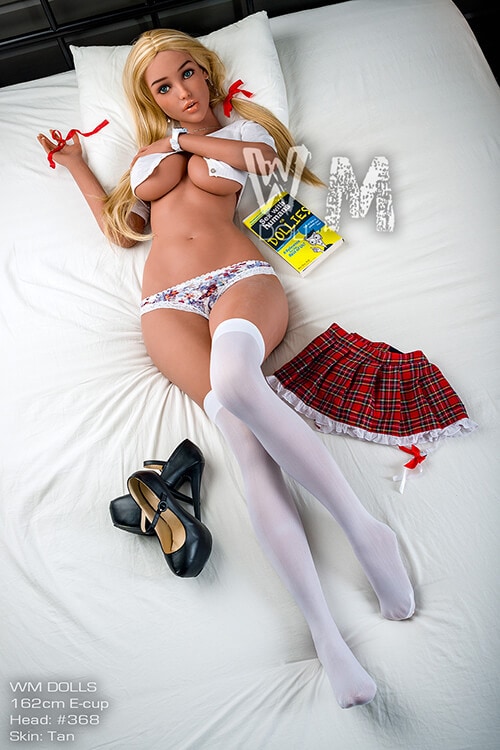 | | EU | US |
| --- | --- | --- |
| Height | 162 cm | 5,32 ft. |
| Full Bust | 81 cm | 31,89 in. |
| Waist | 57 cm | 22.44 in. |
| Hip | 91 cm | 35.83 in. |
| Foot length | 22 cm | 8.66 in. |
| Shoulder breadth | 37 cm | 14.57 in. |
| Vagina Depth | 18 cm | 7.09 in. |
| Anus Depth | 15 cm | 5.90 in. |
| Oral Depth | 12 cm | 4.72 in. |
| Weight | 35 kg | 77.16 lb. |