Hi, I'm Heidi, a 28-year-old
sex doll
. My job as a bank employee is already quite conservative and rigid. But I'm not like that at all. But at my job, I have to follow the bank's dress code. So, I have to wear a high-necked blouse, a blazer, and a skirt that is not too short. I have to put my hair together to a strict style. Fortunately, I can do what I want in my spare time as a real doll!
To compensate for my boring job, I do pole dancing with my sex doll friends. This keeps my
love doll
body fit and I can also seduce men by dancing and moving my real doll body around on the pole. I don't care how old the man is or what he looks like. As a sex dolI, I simply love all men!
I dance in a fashionable club. We aren't allowed to do anything with the guests. But what can I do? I am simply a
real doll
with needs and if the guests show me such strong admiration, a girl gets weak.
One of my guests once turned me on so much that I would have loved to f**k him directly on stage. Of course, I couldn't do that. I just dragged him into the broom closet later. He then took me from behind in my tight p***y and my horny sex doll ass. After that, I sucked him off and we went our separate ways and pretended that nothing happened. I've already f****d my way through the whole club. I was just wondering what it would be like as your sex doll to ride you right on stage. I'm already getting horny at the thought!
Product information "Heidi (28 years)"
The
TPE sex doll
Heidi goes about her bourgeois job as a bank employee during the day. To compensate, the sexy love doll prefers to do pole dancing. This real doll makes men lose their minds by performing the nastiest moves on the pole. If someone hits on her, she lets him f**k her right there in the club.
With her softly tanned skin, slim figure, long dark hair, green eyes and an unbelievable sexy pout, this
TPE doll
simply inspires every man. The 1.72 m tall sex doll has firm B-cup tits and they sure are a looker. This love doll prefers to wear short mini-skirts, over knee stockings, and crop tops. Whoever gives her sexy lace underwear gets access not only to her juicy sex doll p***y but also her ass.
Age:

Mature (25-29 years)

Ass:

Bubble butt

Body Type:

Normal (average)

Eyecolour:

Green

Gender:

Female

Hair Colour:

Black

Hair Length:

Long

Hair Style:

Wavy

Height:

Tall (1,67-1,73 m)

Material:

TPE

Type:

Latin or Mediterranean

, Eastern European

Tags:
Bubble butt
Visual breast size**:

B (medium)

Manufacturer:
WM Doll
* Please note that the sex doll will not be delivered with pre-applied professional makeup. It was only applied for the product photos. The clothes, accessories and decorations depicted in the photos are also not included with the purchase of a sex doll.

** The visual breast size is simply a visual representation based on the figure and the proportions of the sex doll. This information is not suitable for ordering bras. For this purpose, the upper bust and full bust measurements from the size chart are used.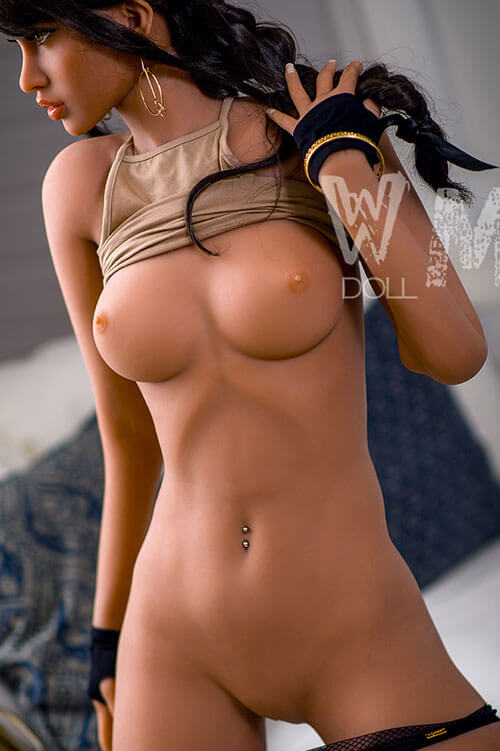 | | EU | US |
| --- | --- | --- |
| Height | 172 cm | 5.64 ft. |
| Full Bust | 79 cm | 31.10 in. |
| Under Bust | 66 cm | 25.98 in. |
| Waist | 58 cm | 22.83 in. |
| Hip | 86 cm | 33.86 in. |
| Foot Length | 21 cm | 8.27 in. |
| Shoulder Breadth | 38 cm | 14.96 in. |
| Vagina Depth | 18 cm | 7.09 in. |
| Anus Depth | 15 cm | 5.91 in. |
| Oral Depth | 12 cm | 4.72 in. |
| Weight | 39 kg | 85.98 lb. |