My name is Cecilia and I am a 23- year-old
love doll
. I come from a good family. You could also say that I used to live in a gilded cage. My parents brought me up very conservatively and kept me away from worldly pleasures. I was only allowed to have friends from equally good families. Boys were absolutely off-limits for me. No television and no magazines that my sex doll friends would read. Instead, I had to read the classics of Shakespeare. I was literally forced to memorize them. I hated it so much! But in retrospect, that was quite good for my acting career.
My parents treated me like a love doll princess. I had to follow certain customs in order not to be punished and sent to my room. Prayers were said before each meal. On Sundays, I had to go to church, and I had to confess my non-existent sins at every opportunity. How could I sin when I was constantly watched by my parents? Besides, I went to an all-girls school. If I was ever lucky enough to look at a boy, I'd be grounded for that. I'm so sick of this innocent love doll life!
Finally, I can stand on my own two feet and do what I want! I've got an acting degree. In movies and series, I like to play permissive and sexy women. I love sex scenes! The lascivious
sex doll
who spreads her legs for her lover. The sexy beauty who wants to be desired. The prostitute – every man's dream. I have many facets of myself. But to be honest, I'm still a virgin. I want to finally know what it feels like to have a c**k in my
real doll
vagina. How does it feel when a strong hand touches my hot body?
I'd like to have a threesome or maybe even have more men. In my golden cage, I always imagined our gardener f*****g me together with his trainee in all of my real doll holes. That's how I used to get myself off pretty fast. Sometimes it made me so horny, I'd bring myself over the edge twice.
I was brought up with a musical education. I play piano, saxophone, and the flute. I wonder if the wind instruments will help me to blow your d**k. Will you show me how to do it? By the way, I love playing the piano naked. You want to watch me do it?
Product information "Cecelia (23 years)"
The
TPE sex doll
Cecilia's desire for hot sex is just as fiery as her red hair. This sex doll's bright blue eyes scream greedily for sex. This very slim sex doll wishes to finally feel a tight penis in her untouched TPE doll vagina. She owes her slender body to ballet. Accordingly, it is flexible and can be brought into any position imaginable. This sexy real doll wants to finally spread her slim legs. She would have liked to have at least two men in bed, as starved as she is.
She longs for filthy sex, although she still looks like a princess. Her blue eyes are soft, and her light skin show her vulnerability. She likes to hide her shaved c**t under sexy lace underwear. Cecilia is every man's dream with her 1.72 m height and her sweet B-cup tits. She likes to wear high heels in bed, with which her beautiful long
adult doll
legs look even hotter.
Age:

Young (21-24 years)

Ass:

Bubble butt

Body Type:

Normal (average)

Eyecolour:

Blue

Gender:

Female

Hair Colour:

Red

Hair Length:

Shoulder length

Hair Style:

Wavy

Height:

Tall (1,67-1,73 m)

Material:

TPE

Size in ft.:

5,64

Type:

European

, Eastern European

Tags:
Bubble butt
Visual breast size**:

B (medium)

Manufacturer:
WM Doll
* Please note that the sex doll will not be delivered with pre-applied professional makeup. It was only applied for the product photos. The clothes, accessories and decorations depicted in the photos are also not included with the purchase of a sex doll.

** The visual breast size is simply a visual representation based on the figure and the proportions of the sex doll. This information is not suitable for ordering bras. For this purpose, the upper bust and full bust measurements from the size chart are used.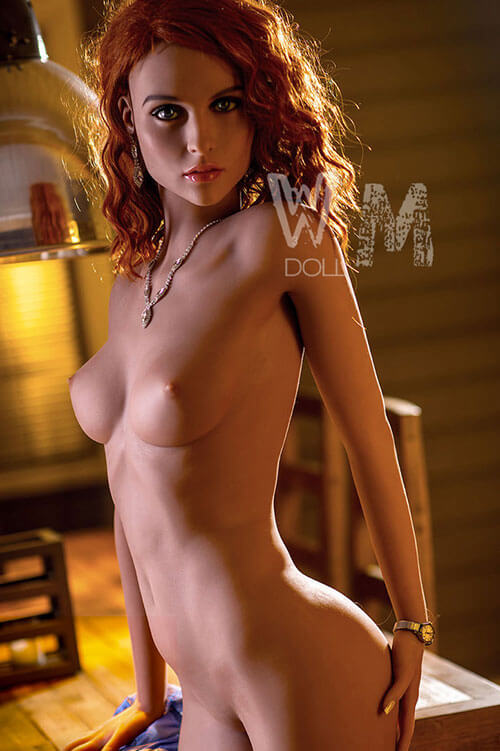 | | EU | US |
| --- | --- | --- |
| Height | 172 cm | 5.64 ft. |
| Full Bust | 79 cm | 31.10 in. |
| Under Bust | 66 cm | 25.98 in. |
| Waist | 58 cm | 22.83 in. |
| Hip | 86 cm | 33.86 in. |
| Foot Length | 21 cm | 8.27 in. |
| Shoulder Breadth | 38 cm | 14.96 in. |
| Vagina Depth | 18 cm | 7.09 in. |
| Anus Depth | 15 cm | 5.91 in. |
| Oral Depth | 12 cm | 4.72 in. |
| Weight | 39 kg | 85.98 lb. |