Hello, my name is Camilla and I am 26 years old. I am a policewoman and because I sometimes have to be a bit more energetic and dominant in my job, I am also quite temperamental in general.
Have you ever wanted to f**k a real cop and get arrested, searched, and interrogated beforehand? Then I'm your Mrs. Right. Not only do I arrest criminals at my job, but I also like to arrest them in private before I drag them to bed and get out my handcuffs.
I like to have many different sex partners, by the way. So, don't get your hopes up for a committed relationship with me. But you're welcome to play a gang of criminals for me with your buddies. We'll let it rip later in a g**g b**g and I'll punish you bad boys properly!
At my job, of course, I have to set the tone very often. So, you can imagine who then sets the tone in bed. Me, of course! I love taking the dominant part. No one is safe from me as soon as I take out my handcuffs. Now, you be good, honey! Maybe your sentence will be a little less harsh. But maybe not! I bet you'll be very happy to get down on your knees for me and lick my shaved p***y.
When I'm not working or having fun in bed with my play partners, I like to play video games or meet up with my friends to chat over a good glass of red wine. Won't you come with me? It should be fun, especially if I'm in the mood to bust the guys and gals.
At parties, I like to strip off my cop uniform in front of the guys. We've had some hot nights already, as I'm sure you can imagine. So, if you commit to a night with me, you can be sure that you will never forget it!
Product information "Camilla (26 years) "
Hot sex doll Camilla loves her job as a cop so much that she would prefer to keep her uniform on even in bed. What man hasn't dreamed of f*****g a hot cop? This greedy
love doll
always has her handcuffs on her so the trap can snap shut anytime Camilla's shaved c**t tingles.
The 1.64 m tall real doll has long brown hair and amber eyes. Her luscious J-cup tits and her hot ass have made every man c*m. The dominant
sex doll
prefers to wear lingerie with lace and suspenders under her police uniform. The love doll is slim and has curves in just the right places. Her tanned skin is velvety soft and drives every man out of his mind!
| | |
| --- | --- |
| Age: | Mature (25-29 years) |
| Ass: | Big ass |
| Body Type: | Curvy (hour glass figure) |
| Eyecolour: | Brown |
| Gender: | Female |
| Hair Colour: | Black |
| Hair Length: | Long |
| Hair Style: | Straight |
| Height: | Medium (1,61-1,66) |
| Material: | TPE |
| Type: | Latin or Mediterranean |
| Visual breast size**: | DD and above (extra large) |
| Manufacturer: | WM Doll |
* Please note that the sex doll will not be delivered with pre-applied professional makeup. It was only applied for the product photos. The clothes, accessories and decorations depicted in the photos are also not included with the purchase of a sex doll.

** The visual breast size is simply a visual representation based on the figure and the proportions of the sex doll. This information is not suitable for ordering bras. For this purpose, the upper bust and full bust measurements from the size chart are used.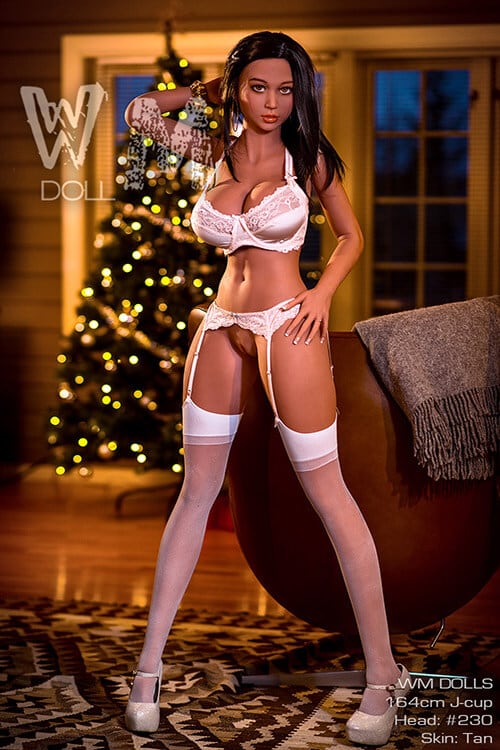 | | EU | US |
| --- | --- | --- |
| Height | 164 cm | 5.38 ft. |
| Full Bust | 86 cm | 33.85 in. |
| Under Bust | 61 cm | 24.01 in. |
| Waist | 61 cm | 24.02 in. |
| Hip | 91 cm | 35.83 in. |
| Foot Length | 21 cm | 8.26 in. |
| Vagina Depth | 18 cm | 7.08 in. |
| Anus Depth | 15 cm | 5.90 in. |
| Oral Depth | 12 cm | 4.72 in. |
| Weight | 34 kg | 74.96 lb. |