My name is Bridget and I'm a 41-year-old
sex doll
. Are you in control of your life? If not, that's not so bad. I am a life coach and love to help my clients. Sometimes they're real loser types, but somehow, they still make me horny. They're always so cute and shy.
I also like to help them sexually with a little determination. I have cured some of my clients right on their desks, if you know what I mean. I just let those guys f**k my curvy
real doll
body right there on the desk.
One of my younger clients didn't know how to get his life together. He was just a sweet 25-year-old. He loved to play computer games and eat unhealthy food in his basement room at his parents' house. That's what he looked like. Much too pale, too fat, and a little unkempt.
And still, this guy made my sex doll p***y drip. I asked him some questions about his dream woman at a meeting and he said that he would like to have a horny
love doll
MILF like me.
I leaned over my desk, pushed up my tight skirt and presented him my real doll ass and my greedy, dripping
adult doll
c**t. I told him to help himself and he did. He almost fainted from horniness when I pressed his head between my thick XXL tits.
I experience such situations again and again in my coaching practice. I love spontaneous sessions like that. Most of my customers then get their life under control very quickly because they want a love doll just like me.
My job is perfect for acting out my sex addiction. Please don't get me wrong - I am passionate about sex, but I actually have other hobbies as well. I like to swim and go to the sauna. At the spa, I enjoy the looks of men and jealous women.
Although there have been women who were allowed to play with my firm tits. But other hobbies of mine are cooking and knitting. Would you like to cook with me and eat me out right in the kitchen?
Product information "Bridget (41 years)"
Bridget is a
TPE sex doll
who loves shy men. This real doll knows to put her sexy body to good use. She prefers to cover her 1.73 m tall body with dresses that are much too tight and too short, which almost allow a direct view of her pleasure holes.
Under her dress, the insatiable sex doll almost never wears underwear, so that her shaved c**t is freely accessible for her customers.
The horny real doll Bridget, however, also likes to be f***d in the ass or mouth. This
TPE doll
is the absolute dream of a hot, sexy MILF. What they say about redheaded women is true with this sexy real doll.
Her light skin, hot sex doll curves, and blue eyes that sparkle with certainty will drive any man out of his mind.
Age:

Milf (39 years and over)

Ass:

Huge ass

Body Type:

Chubby

, Curvy (hour glass figure)

Eyecolour:

Blue

Gender:

Female

Hair Colour:

Red

Hair Length:

Long

Hair Style:

Wavy

Height:

Tall (1,67-1,73 m)

Material:

TPE

Type:

European

, Eastern European

Visual breast size**:

DD and above (extra large)

Manufacturer:
WM Doll
* Please note that the sex doll will not be delivered with pre-applied professional makeup. It was only applied for the product photos. The clothes, accessories and decorations depicted in the photos are also not included with the purchase of a sex doll.

** The visual breast size is simply a visual representation based on the figure and the proportions of the sex doll. This information is not suitable for ordering bras. For this purpose, the upper bust and full bust measurements from the size chart are used.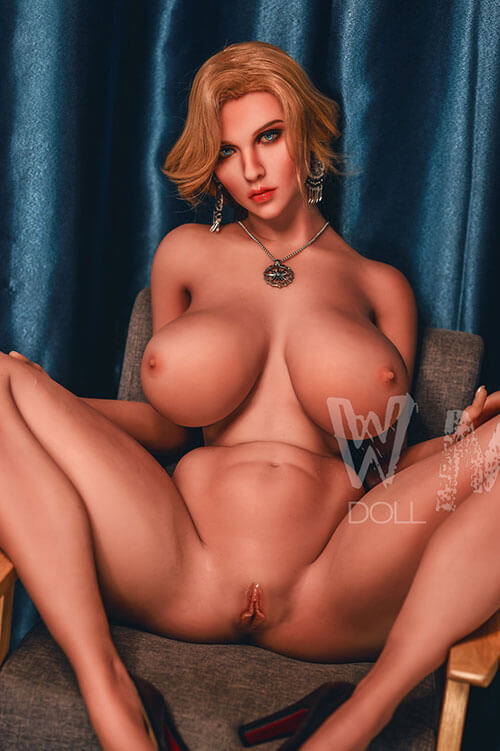 | | EU | US |
| --- | --- | --- |
| Height | 173 cm | 5.68 ft. |
| Full Bust | 100 cm | 39.37 in. |
| Waist | 59 cm | 23.23 in. |
| Hip | 110 cm | 43.31 in. |
| Foot Length | 22 cm | 8.66 in. |
| Shoulder Breadth | 46 cm | 18.11 in. |
| Vagina Depth | 18 cm | 7.09 in. |
| Anus Depth | 15 cm | 5.91 in. |
| Oral Depth | 12 cm | 4.72 in. |
| Weight | 45 kg | 99.21 lb. |