Hey, my name is Bonnie. I'm 20 years old and I'm an influencer by profession. Ever since I was young, I've known that I belonged in front of the camera. As an influencer, I talk about products which interest me, including handbags, mobile phones, cosmetics, health products and much more. Companies then send me their products and I advertise them in front of the camera and get money for it.
I also model as a hobby. Or rather, it was just a hobby at first. Modelling is also part of my job as an influencer. Of course, I have to look good in front of the camera. That's why I keep an eye on my diet. But I don't go over the top. I like to have a pizza every now and then. I do a lot of sport to get my body in shape and keep myself fit. My favorite is swimming. Swimming keeps me fit, makes my body firm and is also very sensual.
In summer I like to spend my time at the lake. I love to go swimming naked. The cool water caresses my skin and my p***y so nicely. It also makes me tanned all over. Last year I took model photos with a professional photographer at the lake. They were for swimwear. I know exactly how to move my body in front of the camera in order to stage it perfectly.
When I wore a red bikini which really only covered the bare essentials, it made the photographer really horny. Of course, I also had to go into the water, and it was really cold, so my nipples got nice and hard. That was too much for him and we ended up f*****g right by the lake. It's a shame that nobody else was there. Otherwise, we would have had a threesome, guaranteed. I had a kind of threesome a long time ago. But I was so young back then that we were too nervous to f**k each other. But at least the three of us touched each other until we came.
I imagine it would be totally exciting to be f****d by two men at the same time. Or to get pounded from behind while licking a cutie's p***y. Can you imagine f*****g me with one of your buddies by the lake? That would be a dream! Hope to meet you soon!
Product information "Bonnie (20 years)"
The sexy
love doll
Bonnie is an influencer who also models as a hobby. She advertises various products - including swimwear, because she loves to swim. Preferably in the lake. She regularly has photo shoots. When she does it, she knows exactly how to put her body in the limelight and how to turn men's heads. So far, no photographer has been able to resist her and they've all f****d her shaved c**t right on the set.
However, one man isn't enough for this hot
sex doll
. She secretly dreams of having a threesome with two men, though this sweet real doll wouldn't be averse to a threesome with a man and a woman. Bonnie prefers to have sex at the lake.
This 1.62 m-tall love doll has long brown hair and brown eyes. No man can resist her sexy blowjob mouth, or her big F-cup tits. This
real doll
is slim, with curves in all the right places. She has lightly tanned skin which makes her eyes shine even more. Bonnie prefers to wear swimwear or to go naked. She also likes to wear subtle jewelry like a navel piercing, pearl earrings and a bangle.
Age:

Teens (18-20 years)

Ass:

Big ass

Body Type:

Athletic

Eyecolour:

Green

Gender:

Female

Hair Colour:

Brown

Hair Length:

Medium

Hair Style:

Straight

Height:

Medium (1,61-1,66)

Material:

TPE

Type:

Latin or Mediterranean

, European

Tags:
Teens(18-20 years)
Visual breast size**:

DD and above (extra large)

Manufacturer:
WM Doll
* Please note that the sex doll will not be delivered with pre-applied professional makeup. It was only applied for the product photos. The clothes, accessories and decorations depicted in the photos are also not included with the purchase of a sex doll.

** The visual breast size is simply a visual representation based on the figure and the proportions of the sex doll. This information is not suitable for ordering bras. For this purpose, the upper bust and full bust measurements from the size chart are used.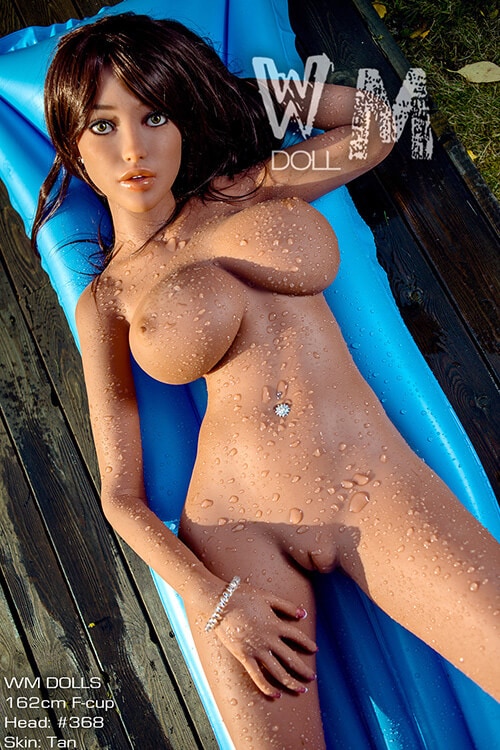 | | EU | US |
| --- | --- | --- |
| Height | 162 cm | 5,32 ft. |
| Full Bust | 83 cm | 32.68 in. |
| Under Bust | 59 cm | 23.23 in. |
| Waist | 54 cm | 21.26 in. |
| Hip | 89 cm | 35.04 in. |
| Foot Lenght | 21 cm | 8.27 in. |
| Shoulder Breadth | 35 cm | 13.78 in. |
| Vagina Depth | 18 cm | 7.09 in. |
| Anus Depth | 15 cm | 5.90 in. |
| Oral Depth | 12 cm | 4.72 in. |
| Weight | 34 kg | 74.96 lb. |