Hello, my name is Alexia. I'm 18 years old and I'm a registered nurse. I can't think of a better job. So, I can satisfy my helper syndrome at any time. I particularly enjoy looking after my male patients and, of course, keeping them satisfied.
I'm still very young, but I'm already very well informed for my age. Nevertheless, I still want to get as much sexual experience as possible. That's why I like to go out a lot in my free time. I like flirting with men in cozy bars. And then I have hot sex with some of them. I've even had sex on the toilet in a bar before. But I can think of nicer places for a hot f**k.
Sometimes I have to make house calls to patients. I particularly like doing that. I'm a very caring person. As a nurse, it's really just my job to nurse my patients back to health. However, every now and then I also do the shopping for the patients when they're completely on their own and can't leave the house.
One of my patients was hit really hard once. He had broken both arms and legs. So, I did the housework for him - and other services too, if you know what I mean. I couldn't leave the poor man alone with his horniness. I'm also constantly aroused, so I also benefit from it.
If you ever need a helping hand to cherish and care for you, please let me know. Or maybe you just want to f**k a nurse like that. I'd also like to put on my work clothes for you. And how about high heels? Then I'm sure you'll get better very quickly. I'm already looking forward to helping you!
Product information "Alexia (18 years)"
Sweet Alexia is a
sex doll
who comes across as a very good girl. However, this nurse has hidden depths and loves to seduce her patients. In her free time, this love doll prefers to wear tight tops and hot pants. For good sex, she also likes to put on her nurse's outfit to seduce some of her patients according to all the rules of the trade.
This
love doll
also likes to hang around bars and go on adventures with men. The 1.62 m-tall real roll Alexia has long blonde hair and gently tanned skin. This shows off her blue, shining eyes even more. Her big F-cup tits are just as cool as her firm ass and shaved c**t, which the sex doll loves to get licked. This hot sex doll also knows how to win all the men over with her blowjob mouth and how to completely satisfy them.
Age:

Teens (18-20 years)

Ass:

Bubble butt

Body Type:

Curvy (hour glass figure)

Eyecolour:

Blue

Gender:

Female

Hair Colour:

Blonde

Hair Length:

Shoulder length

Hair Style:

Straight

Height:

Medium (1,61-1,66)

Material:

TPE

Type:

European

Tags:
Bubble butt

,

Teens(18-20 years)
Visual breast size**:

DD and above (extra large)

Manufacturer:
WM Doll
* Please note that the sex doll will not be delivered with pre-applied professional makeup. It was only applied for the product photos. The clothes, accessories and decorations depicted in the photos are also not included with the purchase of a sex doll.

** The visual breast size is simply a visual representation based on the figure and the proportions of the sex doll. This information is not suitable for ordering bras. For this purpose, the upper bust and full bust measurements from the size chart are used.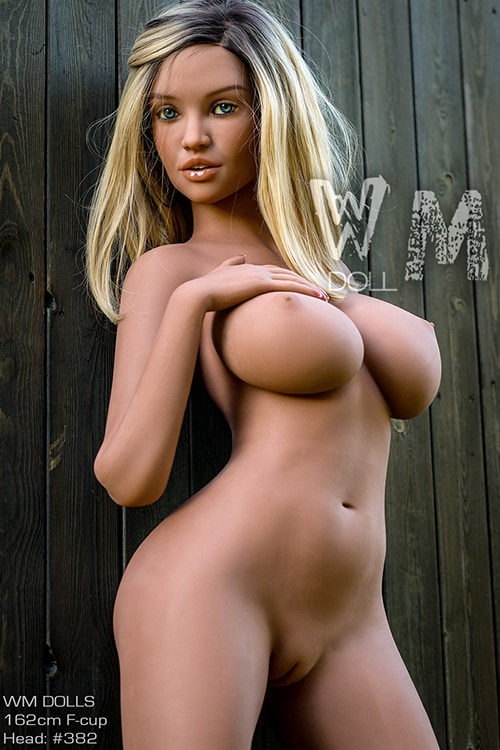 | | EU | US |
| --- | --- | --- |
| Height | 162 cm | 5.32 ft. |
| Full Bust | 83 cm | 32.68 in. |
| Under Bust | 59 cm | 23.23 in. |
| Waist | 54 cm | 21.26 in. |
| Hip | 89 cm | 35.04 in. |
| Foot length | 21 cm | 8.27 in. |
| Shoulder Breadth | 35 cm | 13.78 in. |
| Vagina Depth | 18 cm | 7.09 in. |
| Anus Depth | 15 cm | 5.91 in. |
| Oral Depth | 12 cm | 4.72 in. |
| Weight | 34 kg | 74.96 lb. |