Hey, sweetie. I'm Alessandra and I'm 22 years old. I am a very ambitious
real doll
! I always have been. Accordingly, I was very good in school. I went to a sports boarding school to become a professional swimmer. Now, after school, I have finally made it and I am a professional swimmer. I train daily with my incredibly hot coach. This man makes my p***y tingle all the time while swimming. I always imagine having wild sex with him while I finger my little slit. It's a little embarrassing, but I'm still a virgin! It would be a dream come true if you could change that and fill my TPE doll p***y.
Although I am still untouched, I still love to seduce my coach. Sometimes, I wriggle so much in the water that my sexy B-cup tits almost jump out of my swimsuit. Of course, my coach does not miss this, and he reacts accordingly with his horniness. I sometimes see his magnificent boner in his bathing suit. An impressive piece.
Once it made me so horny that I fingered myself directly in the pool when my coach briefly disappeared from the swimming hall. He caught me but pretended not to notice and then he stood there with his hard c**k. Did he jerk off on me? Would you jerk off on my
adult doll
body? Or would you maybe even want to have fun with me?
I know that my
love doll
body makes men horny, but I just don't know how to f**k properly. Can you show me? I wish so much that you would finally make me a real woman! You want to f**k me in the pool?
Product information "Alessandra (22 years)"
Alessandra is a virgin
TPE sex doll
, but she is just dying to have sex. In her fantasy, she imagines again and again how she f***s her swimming coach in the pool. This makes the sexy real doll so horny that she plays with herself. Alessandra is a love doll with velvety soft, gently tanned skin. This beauty is 1.57 m tall, has dark eyes, and long black hair. She is a wonderful racy sex doll who could hardly have more sex appeal.
There's something naughty and girlish about her. The
sex doll
Alessandra is well aware of her effect on men and is only too happy to use this to achieve her goals. She likes to wear sporty swimsuits and sexy over knee socks. For her sexual partners, however, she would also show off her sexy curves in a tight bikini that would show off her B-cup tits even more.
Age:

Young (21-24 years)

Ass:

Bubble butt

Body Type:

Normal (average)

Gender:

Female

Hair Colour:

Brown

Hair Length:

Long

Hair Style:

Straight

Height:

Small (1,51-1,60 m)

Material:

TPE

Type:

European

, Eastern European

Tags:
Bubble butt
Visual breast size**:

B (medium)

Manufacturer:
WM Doll
* Please note that the sex doll will not be delivered with pre-applied professional makeup. It was only applied for the product photos. The clothes, accessories and decorations depicted in the photos are also not included with the purchase of a sex doll.

** The visual breast size is simply a visual representation based on the figure and the proportions of the sex doll. This information is not suitable for ordering bras. For this purpose, the upper bust and full bust measurements from the size chart are used.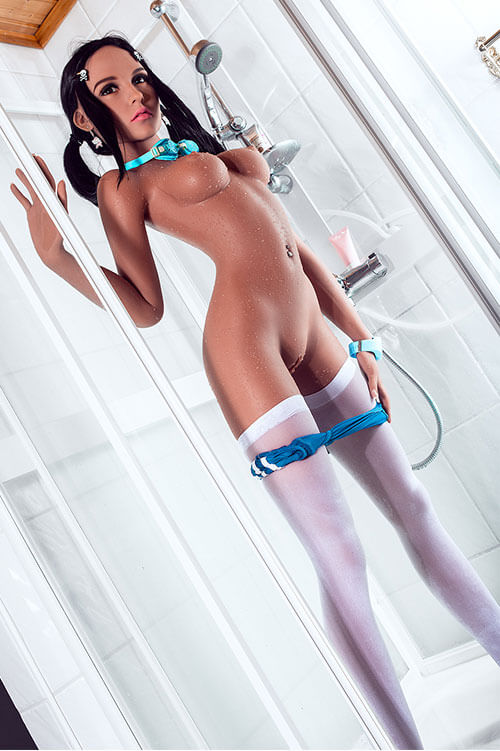 | | EU | US |
| --- | --- | --- |
| Height | 157 cm | 5.15 ft. |
| Full Bust | 67 cm | 26.37 in. |
| Under Bust | 52 cm | 20.47 in. |
| Waist | 48 cm | 18.9 in. |
| Hip | 75 cm | 29.53 in. |
| Foot Length | 20 cm | 7.87 in. |
| Shoulder Breadth | 33 cm | 12.99 in. |
| Vagina Depth | 22 cm | 8.66 in. |
| Anus Depth | 15 cm | 5.91 in. |
| Oral Depth | 13 cm | 5.11 in. |
| Weight | 29 kg | 63.93 lb. |