Hello, I am Acacia and I am 18 years old. I'm almost done with school. I'm really happy about that. I go to an all-girls school, unfortunately. That's why I'm quite shy around men. I haven't had much contact with boys in the last couple of years. I really want to change that now.
I can hardly wait to finally seduce a man with my charms. However, I still need a little practice. I'd love to get my hands on a sugar daddy. Then, I wouldn't have to look for a job after school and I can enjoy my life to the fullest. Plus, I'd have plenty of time to take care of myself and my appearance. After all, I always want to look good for the man by my side.
Won't you be my sugar daddy? In return, I would do anything for you and give myself to you completely. I'd do anything you ask me to. I'm still very young, but I'm a quick learner. And you would be the very first man to f**k me.
At school, I'm at the top of my class and am currently working towards becoming the best in the whole school. By the time I graduate, I will definitely be able to do this. As you can see, I am very inquisitive, studious, and ambitious. You could really mold me to your desires and prepare me for higher society.
My favorite color is pink, by the way. Just in case you ever want to give me a gift.
Product information "Acacia (18 years)"
Sexy
real doll
Acacia just turned 18. She is still a student at a girls' school. That's why the pretty blond is quite shy around men. This little wallflower is even top of her class. But instead of getting a job or going to college after high school, she wants to hook a sugar daddy to sweeten her life and pay for her living expenses. This cute
love doll
is still untouched, which will definitely help her in her search for a sugar daddy.
The sex doll wants to give herself completely to the man at her side and spoil him by every trick in the book. She wants to be molded by him. Love doll Acacia is slim and has slightly tanned skin. She has long blond hair, brown eyes, and a shaved c**t. The 1.64 m tall
sex doll
with the big F-cup tits can hardly wait to finally feel a c**k in her little p***y.
Age:

Teens (18-20 years)

Ass:

Bubble butt

Body Type:

Normal (average)

Eyecolour:

Brown

Gender:

Female

Hair Colour:

Brown

Hair Length:

Long

Hair Style:

Straight

Height:

Medium (1,61-1,66)

Material:

TPE

Type:

Latin or Mediterranean

, European

Tags:
Bubble butt

,

Teens(18-20 years)
Visual breast size**:

DD and above (extra large)

Manufacturer:
WM Doll
* Please note that the sex doll will not be delivered with pre-applied professional makeup. It was only applied for the product photos. The clothes, accessories and decorations depicted in the photos are also not included with the purchase of a sex doll.

** The visual breast size is simply a visual representation based on the figure and the proportions of the sex doll. This information is not suitable for ordering bras. For this purpose, the upper bust and full bust measurements from the size chart are used.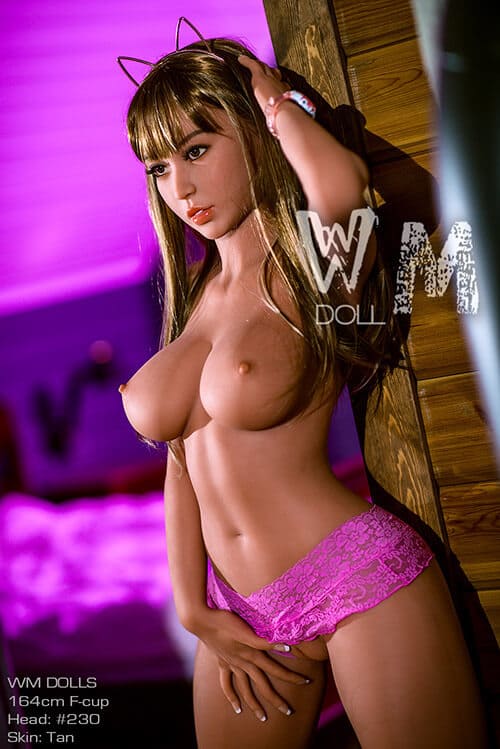 | | EU | US |
| --- | --- | --- |
| Height | 164 cm | 5.38 ft. |
| Full Bust | 78 cm | 30.71 in. |
| Under Bust | 56 cm | 22.05 in. |
| Waist | 61 cm | 24.02 in. |
| Hip | 91 cm | 35.87 in. |
| Foot length | 20 cm | 7.87 in. |
| Shoulder Breadth | 34 cm | 13.39 in. |
| Vagina Depth | 18 cm | 7.09 in. |
| Anus Depth | 15 cm | 5.90 in. |
| Oral Depth | 12 cm | 4.72 in. |
| Weight | 33 kg | 72.75 lb. |