Hello, my name is Natascha and most people would probably describe me as pretty cheeky for my 19 years. But I am a love doll who just knows exactly what she wants and is quite adventurous. I am excited to try new things and different sex techniques as your
adult doll
. That's why I need a man who won't get into annoying arguments or stupid discussions. Come on, let's rip off our clothes and go straight to bed or should we just use the dining table?
My dream partner can expect exciting sex games and a lot of passion from me. BDSM, for example, is something I have always wanted to try. I must confess, I love being tied up in different positions and I really get a tingling sensation when I feel the looks of desiring men on my body. As a
real doll
, it is exactly what I am made for - to give you pure pleasure!
With my TPE doll legs spread wide apart, tied to the bed, hands tied above my head, a red gag ball in my mouth… I've been dreaming about something like this for a long time. I also expect it a bit rougher. My p***y is burning with desire. But not only bondage games get me really horny, I also wish for extensive penetration. And I don't care which of my openings you prefer; as your TPE sex doll I am ready for anything.


I know that we will have a lot of fun with each other, because as a
sex doll
, there are no taboos and I will like everything that gets you horny. You can try things on me that you've only dreamed about before. Do you want me to be your love doll?
Product information "Natascha (19 years) "
Natascha has dark brown hair, blue eyes, and a mouth with red, lustful lips that stand out against her soft white skin. Although she is very slim, she wears a C-cup. Her breasts are as with all young women, beautifully firm. The nipples, which are well supplied with blood, are erect and her p***y is already swollen red from arousal.
With a height of 1.53 m she is rather small, but this does not change the fact that this
love doll
makes up for her size in bed. This sex doll is flexible and can take practically any position. No matter how her owner wants to see her, Natascha is an obedient little real doll and does what is required of her.
This perfect body is waiting for an energetic man, who is looking for an audacious playmate to live out his passion. With all devotion, the
TPE sex doll
Natascha will present her beautiful ass ready to receive and give herself. This beautiful sex doll is always ready when the desire arises.
Age:

Teens (18-20 years)

Ass:

Bubble butt

Body Type:

Normal (average)

Eyecolour:

Blue

Gender:

Female

Hair Colour:

Brown

Hair Length:

Long

Hair Style:

Straight

Height:

Small (1,51-1,60 m)

Material:

TPE

Type:

European

, Eastern European

Tags:
Bubble butt

,

Teens(18-20 years)
Visual breast size**:

B (medium)

Manufacturer:
AS Doll
* Please note that the sex doll will not be delivered with pre-applied professional makeup. It was only applied for the product photos. The clothes, accessories and decorations depicted in the photos are also not included with the purchase of a sex doll.

** The visual breast size is simply a visual representation based on the figure and the proportions of the sex doll. This information is not suitable for ordering bras. For this purpose, the upper bust and full bust measurements from the size chart are used.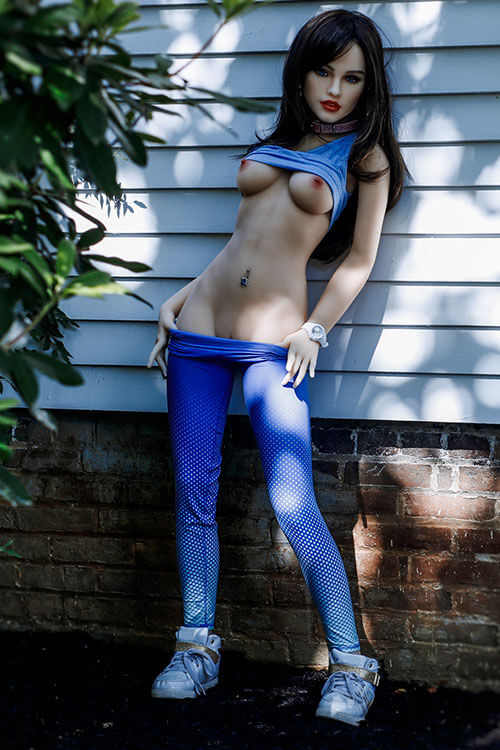 | | EU | US |
| --- | --- | --- |
| Height | 153 cm | 5.01 ft. |
| Full Bust | 71 cm | 27.95 in. |
| Under Bust | 56 cm | 22.04 in. |
| Waist | 48 cm | 18.89 in. |
| Hip | 81 cm | 31.88 in. |
| Foot Length | 20 cm | 7.87 in. |
| Shoulder Breadth | 33 cm | 12.9 in. |
| Vagina Depth | 20 cm | 7.87 in. |
| Anus Depth | 17 cm | 6.69 in. |
| Oral Depth | 15 cm | 5.90 in. |
| Weight | 28.6 kg | 63 lb. |